'Star Wars: Rise of Skywalker's Biggest Twist May Be Explained in New Comic
This comic book could be required reading ahead of 'Episode IX'.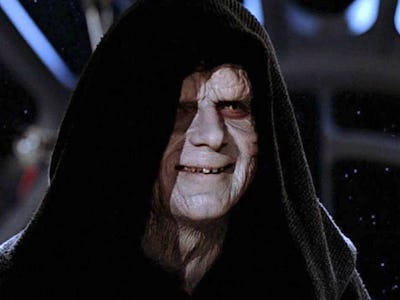 Lucasfilm
Emperor Palpatine is back in Star Wars: The Rise of Skywalker, but how did he survive that fall in the first place? That's the questions fans are still wondering two months after the first trailer for Episode IX dropped, and an upcoming Star Wars comic might just hold the key.
Comic book writer Greg Pak (best known for the "Planet Hulk" storyline), unveiled his newest project in a series of tweets this week. "Star Wars #68" takes place just before Empire Strikes Back and takes its inspiration from a line in that movie's opening crawl:
The evil lord Darth Vader, obsessed with finding young Skywalker, has dispatched thousands of remote probes into the far reaches of space…
According to Pak, this new story will focus on "where some of those probes went" and how the Rebels trick the Empire and avoid detection. We'll also get a Chewbacca/C-3PO team-up, "Leia and Han in a noir adventure," and Luke hiding out with R2-D2 on some desert planet while wearing a poncho.
That all sounds great, but it's the unrevealed details Pak teases that could be the most important for The Rise of Skywalker. The writer notes that the comic will also "introduce a number of new characters and worlds." So could some of these original creations help explain what happened to Palpatine? Could some of those new characters turn up in Star Wars: Episode IX? Could one of them be Matt Smith's mystery role?
We're also pretty curious about Luke's location in that image. A few years pass between Episode IV and Episode V, so there's plenty of untold story to explore. We do know that Luke definitely went back to Tatooine, which looks pretty similar to the desert pictured in "Star Wars #68." Except Tatooine has two suns, and this planet seems to just have one.
Another option? Jakku. The desert planet introduced in The Force Awakens only has one sun. More importantly, Emperor Palpatine also had an observatory on Jakku. So perhaps this new comic will show Luke stumbling onto Palp's base and discovering some key information that helps explain how the Emperor survived.
At the very least, this new Star Wars comic will bring us back to a key moment in the Star Wars saga that now seems more important than ever. This was the moment that the Emperor truly set his sights on Luke Skywalker. Now, with Palpatine's return confirmed in Star Wars: The Rise of Skywalker, he'll likely focus on another powerful new Jedi: Rey.
How will Rey and the rest of the Resistance defeat this new threat? The key to outsmarting the Emperor may be hidden in "Star Wars #68."
Star Wars: The Rise of Skywalker releases December 20. "Star Wars #68 hits comic bookstore shelves on July 10, but you can preorder it at your local shop starting on June 17.