'No More Heroes 3' Release Date Brings Motion Control, "Thanos-Level" Foes
Travis Touchdown is back on the Nintendo Switch. Here's everything you need to know.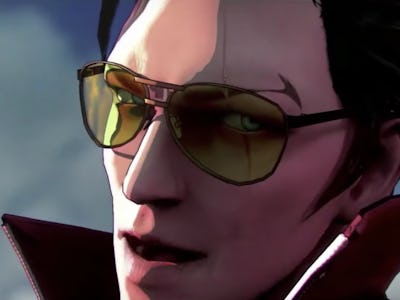 Nintendo
Welcome back to the Garden of Madness. At long last, at E3 2019, punk game developer Goichi Suda — better known by his nickname, "Suda51" — unveiled No More Heroes 3 for the Nintendo Switch. The announcement trailer debuted during a special "Nintendo Direct" on Tuesday.
During the Nintendo Direct for E3 2019, a trailer began by showing a giant alien invasion descending upon the California beach town of Santa Destroy. In his motel apartment, a slimy ex-assassin named Travis Touchdown, wakes up while still recovering from the events of the spin-off game No More Heroes: Travis Strikes Again, released in January 2019 for the Switch.
The invasion prompts Travis to "morph" into a mech suit and fight off the aliens, all while brandishing his signature beam katana — an off-brand "lightsaber" he used to rank up as the number one assassin in the world.
You probably have a lot of questions. Lucky for you, you're reading Inverse. Here's all you need to know about No More Heroes 3 as well as just what in the ever-living forkballs is going on in these games.
When Is the No More Heroes 3 Release Date? What Consoles?
No More Heroes 3 will release exclusively on the Nintendo Switch in 2020. Suda51 did not reveal an exact release date.
What Is No More Heroes 3 About?
Little is known about the story of No More Heroes 3. We know it involves an alien invasion, and that Travis Touchdown is the only one who can stop it.
In an interview with Gamereactor at E3, Suda51 revealed No More Heroes 3 is a continuation of all the games, set two years after Travis Strikes Again. He teased the stakes for Travis have become far more dire, as Travis is saving the world now instead of saving his own hide.
"The scale is completely changed," Suda51 told Gamereactor (via English interpreter). "Travis wakes up and sees these weird ass aliens coming down from space. This kind of Independence Day thing going on, where he's in the Will Smith role going, 'What the hell is going on here?'"
Suda51 continued, "Whereas before it was a 'kill or be killed' thing, the stakes are different. I can't comment on what I mean, but this time Travis is going up against different enemies where his life is not the only thing on the line."
That Still Doesn't Make Sense. What Are These Games About?
No More Heroes is about Travis Touchdown, a 27-year-old slacker and "otaku" who loves anime, video games, pro wrestling, and women. When he runs out of money to indulge his hobbies, he becomes an assassin after buying a "beam katana" on eBay, which he uses to take up assassination gigs.
Soon, he is approached by the enigmatic Sylvia Christel, a French woman with deep connections to the underworld. She challenges Travis to join the United Association of Assassins, or UAA, where he must kill the top 11 assassins in order to win untold wealth as "Number One."
The games were renowned for being brash, violent, lurid, Quentin Tarantino-esque open world adventures with a unique mythology. The games were among the rare M-rated releases on the Nintendo Wii, and they won a devoted cult following. As a result, Travis Touchdown is a pretty popular candidate as the next character in the Super Smash Bros. games.
After the 2010 sequel No More Heroes 2: Desperate Struggle, the series went on hiatus until No More Heroes: Travis Strikes Again. Set nine years later, Travis is now in his late 30s and lives as a recluse until he's sucked into the world of the "Death Drive," a possessed game console that traps Travis and Badman (the father of one of Travis' victims) in the virtual world.
So What's Different About No More Heroes 3?
Whereas the first two games followed Travis' uphill battle to become the top assassin, the new game is a heroic fantasy with Travis wielding a new weapon to combat an alien army. His mech suit, Suda51 told Gamereactor, is a direct connection to Travis Strikes Again.
"That's something that he brought directly from the story in TSA," said Suda51. "He's brought the Death Glove back with him into the real world and uses that as part of his arsenal now. That's gonna be a key point in No More Heroes 3. There's all these weird, funky, hardcore aliens, kind of Thanos-level foes he's gotta go up against. That Death Glove is gonna be the most important part of this weaponry in taking these guys down."
What Will Gameplay Be Like?
Fans of the games remember how much the original Wii's motion controls factored into gameplay. While hacking and slashing only used taps of the "A" and "B" buttons, dishing out wrestling moves and delivering fatal slashes of a beam katana used the Wiimote's motion control.
In an interview with Gamereactor, Suda51 revealed the "best" way to play No More Heroes 3 is to use the Switch's similar motion controls.
"The arrows [you see in the trailer] are indicative of the motion controls you see in the game," Suda51 said. "You will be able to have the two Joy-Cons connected to the main console itself and play like that. But the true, perfect way to play the game would be to detach both the controllers."
He added, "Basically, think of it as the original Wii."
As far as the original games' open world nature, Suda51 said it will be a challenge as open world games are far more sophisticated than they were when the original games first released.
"Twelve years ago, we came out with the open world game of No More Heroes. Nowadays, especially with these triple-A games you have out there, the scale is just completely different. They're huge now."
He added, "As a studio we don't have a thousand people on staff, we have less than a hundred altogether. We not only have to focus on what fans want and what kind of game they want to play, but how we can also realistically make that a reality with this size and scale of the team we have without compromising quality."
I Missed the First Two Games. Is a Remastered Edition Coming Soon?
Suda51 told both GameXplain and Gamereactor that he will meet with original publisher Marvelous Entertainment about a potential rerelease of the original games, presumably for the Nintendo Switch.
"If it's the sort of thing everybody really wants, who's to say it woulnd't happen?" Suda51 said. "It happens Marvelous is here as well, and we've got a meeting with them. Is it something everybody wants? Then I'm confident we can make something happen somehow."
Will Travis Touchdown Appear in Super Smash Bros. Ultimate?
In December, Suda51 shot down rumors that Travis Touchdown will be in Super Smash Bros. Ultimate. With No More Heroes 3, Suda51 is again fielding that question, and his response hasn't changed.
"Unfortunately there's only one of myself and I'm gonna be really, really busy working on No More Heroes 3," he told Gamereactor.
When GameXplain posed the same question, Suda51 said it was not up to him but Nintendo fans to let Nintendo know they want it to happen.