There Are No Words for How Beautiful Netflix's 'Dark Crystal' Prequel Looks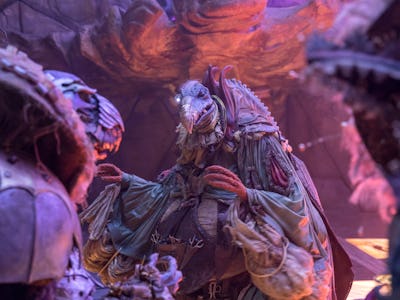 Netflix
Jim Henson's world of magic is coming back sooner than you think. In addition to releasing the first images of The Dark Crystal: Age of Resistance, which looks incredible, Netflix announced a premiere date of August 30, 2019 for the puppet-filled series.
On Tuesday, Netflix released the very first images of The Dark Crystal: Age of Resistance, a live-action prequel series to Jim Henson's 1982 film The Dark Crystal. Staying true to Henson's style, the film will make use of puppetry, real sets, and practical effects, with CGI only being used for green screens and to remove puppeteers. To put it simply, there are no words for how gorgeous it all looks.
Netflix also confirmed that its release date is coming at the end of the summer, August 30 to be exact. That leaves you enough time to binge-watch Stranger Things Season 3 before indulging in even more '80s nostalgia.
As previously revealed by Netflix, The Dark Crystal: Age of Resistance is a prequel to Henson's 1982 film The Dark Crystal, which he co-directed with Frank Oz. In Age of Resistance, three elf-like creatures like "Gelfling" discover the secret of Skeksis — a malevolent race who use the "Dark Crystal" for their own gain — and set out to "ignite the fires of rebellion" and save the world.
The series will star Taron Egerton (Kingsman: The Secret Service, Rocketman), Nathalie Emmanuel (Game of Thrones, Furious 7), and Anya Taylor-Joy (Split, Glass) as the three Gelfing: Rian, Deet, and Brea.
The show's supporting cast is also packed with some big names, including Helena Bonham Carter, Harris Dickinson, Natalie Dormer, Eddie Izzard, Theo James, Toby Jones, Gugu Mbatha-Raw, Mark Strong, Alicia Vikander, Mark Hamill, Jason Isaacs, Keegan-Michael Key, Andy Samberg, and Simon Pegg.
Louis Letterrier, known for films like The Incredible Hulk (2008) and Now You See Me (2013) serves as director of all ten one-hour episodes.
You can see the first images below.
The original film was released in theaters on December 17, 1982. It initially received mixed reviews before going on to become a cult hit, especially with fans of Jim Henson and fantasy media. The film was recognized for its darker tone than Henson's other projects, most especially his Muppets franchise.
The Dark Crystal remains the fourth highest-grossing puppet film of all time, behind 2011's The Muppets, its sequel Muppets Most Wanted, and the 1979 film The Muppet Movie.
A sequel, The Power of the Dark Crystal, was in development hell for years, and at one time had Genndy Tartakovsky (creator of Samurai Jack) as director. When development was officially canceled, the story was adapted into a 12-issue comic book series published by BOOM! Studios. Comic book writer Simon Spurrier adapted the film's screenplay.
The Dark Crystal: Age of Resistance will be released on Netflix on August 30.