Netflix Is Making a Prequel 'Dark Crystal' Series
Jim Henson's Creature Shop is making the puppets.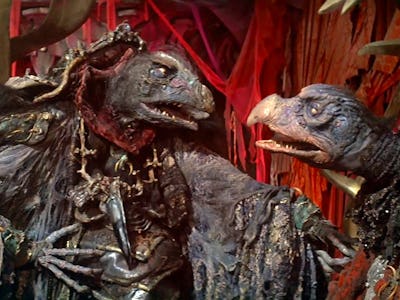 Netflix
Netflix seems to really be on an '80s kick lately, as in addition to the upcoming sophomore season of Stranger Things the streaming giant has just announced new series that's a prequel to Jim Henson's cult classic The Dark Crystal.
The 10-episode series, The Dark Crystal: Age of Resistance, takes place well before the original 1982 film, but the look of the series will fit in perfectly. That's because Jim Henson's Creature Shop and Brian Froud — the original movie's conceptual designer — are back to work for the Netflix show. A featurette that accompanied the Wednesday announcement shows some of the high-tech, imaginative puppetry that they're currently working on.
"The Dark Crystal: Age of Resistance returns to the world of Thra with an all-new adventure," a Netflix press release reads. "When three Gelfling discover the horrifying secret behind the Skeksis' power, they set out on an epic journey to ignite the fires of rebellion and save their world."
In archival footage, Henson remarks that the original film is the project that he's "the most proud of," so Netflix's bar is set pretty high.
The Dark Crystal: Age of Resistance does not have a release date yet, but Netflix says the show, which is filming in the United Kingdom, is "coming soon."