PS5 vs. New Xbox: Former Sony Exec Gives Unexpected Prediction for 2020
Sony better watch the throne.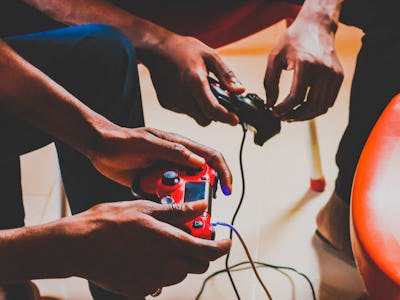 Unsplash / S X R I P T X
Sony's PlayStation 4 is widely seen as the victor of the current-generation console war, with more than 96.8 million sales since its 2013 launch. But the rise of cloud gaming, given Xbox's parent considerable Microsoft's cloud advantages, is expected to present a significantly more formidable challenge for the upcoming PS5.
Former Sony execs have already begun to sound the alarm. Jack Tretton, Sony's former console chief, said he thinks the ever-changing console landscape might topple Sony's rule. In a recent interview with VentureBeat, Tretton observed that the rise of cloud-gaming services, like xCloud and Stadia, plus the the Nintendo Switch's surging popularity, will all conspire to make it difficult for the PS5 to stand out.
"[Sony is] well-positioned. But I do think they'll face exponentially more competition than they did the last time around," he said. "Microsoft should give them a better run for their money, and Stadia is a new wrinkle in the market that didn't exist in 2013. Nintendo is more relevant this time around. It's going to be a much more competitive market."
Tretton's remarks are surprising, because the PS5 is expected to be an absolute powerhouse, boasting a solid-state drive (SSD). It's expected to support a revolutionary new rendering technique that can create a very high degree of visual realism, and a Boost Mode feature to increase games' frame rates. Patents and leaks have suggested that a wireless virtual reality headset to complement the console is in the works, too.
But Sony may need to charge a lot to deliver on all these features. Japanese analyst Hideki Yasuda of Ace Research Institute forecasted that the PS5 could start at $499, which is clearly targeted at diehard, deep-pocketed console fanatics. That may be a tough sell when its competitors are expected to release much more affordable gaming options.
Microsoft is developing two variants of its upcoming Xbox "Scarlett" consoles, codenamed "Anaconda" and "Lockhart." The Anaconda is expected to rival the PS5 in terms of specs and capabilities, while Lockhart will be a budget console that is anticipated to rely heavily on Microsoft's xCloud game-streaming service.
Nintendo, on the other hand, is reportedly gearing up to launch a cheaper version of the Switch. The so-called Nintendo Switch "Lite" is expected to be non-detachable and primarily handheld, but still able to connect to TVs either wirelessly or via a dongle. A video game industry analyst perviously told Inverse that this console could launch for $249.99, half the price of the forecasted $499 PS5. All of these options might force Sony to adapt its initial strategy to appeal to a broader audience.
"I've always said that a rising tide lifts all boat," said Tretton. "More people entering the industry means more choice for gamers and more opportunities for developers. It certainly raises the bar as far as what a console publisher needs to do to have a leadership position."
In fact, Sony has already made an unexpected announcement. On May 16, the company announced a cloud gaming partnership with Microsoft, which would allow it to use Microsoft's Azure data centers for its own cloud gaming ventures. Sony might look to improve its currently available PS Now streaming service to stand up to xCloud and Stadia.
That's an early sign that the PS5 might not be able to win the next-gen console war by simply relying on its current fandom. The upcoming console war might be more heated than ever before.