James Gunn's New Rocket Comments Could Confirm a Huge 'Guardians 3' Leak
This calls for a closer look.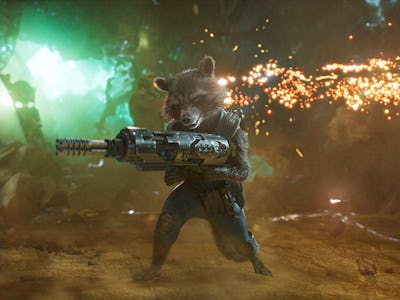 Marvel Studios.
It's been a long, winding, and frequently uncomfortable road for James Gunn as he has made his way back to Disney and Marvel to resume directing duties for Guardians of the Galaxy Vol. 3.
Speaking with Deadline, Gunn gave an extensive interview about Disney firing and rehiring him to direct Guardians of the Galaxy 3, all of which took place over the last 8 months. Late in the interview, Gunn opened up about his vision for Guardians 3 and Rocket in particular, and his comments seem to support an earlier leak that could reveal some huge details about the upcoming Marvel movie's plot.
Possible spoilers for Guardians of the Galaxy Vol. 3 ahead.
Marvel hasn't officially confirmed what the plot of Guardians of the Galaxy 3 will be aside from what we can logically guess: Thor will join the Guardians, the team will search for Gamora, and there's a good chance we'll see more of Sovereign High Priestess Ayesha. But Gunn's comments seem to hint that Guardians 3 will low-key be focused on Rocket and his journey, further developing him as a character after he essentially became a lead in Avengers: Endgame.
As Gunn told Deadline:
"When you asked me what was saddest for me when I thought it was gone — and anybody at Marvel can tell you — it's this very strange and attached relationship to Rocket. Rocket is me, he really is, even if that sounds narcissistic. […] I relate to Rocket and I feel compassion for Rocket, but I also feel like his story has not been completed. He has an arc that started in the first movie, continued into the second and goes through Infinity War and Endgame, and then I was set to really finish that arc in Guardians 3. That was a big loss to me—not being able to finish that story—though I was comforted by the fact that they were still planning to use my script."
Gunn's personal relationship with Rocket, as evidenced by his Deadline comments, feel like a nudge to readers that he will be putting more time and effort into focusing on the Bradley Cooper-voiced character in Guardians 3. It's also worth noting that Gunn's comments align eerily well with noted MCU leaker Roger Wardell, whose Twitter account correctly predicted Endgame plot points before the film premiered in April. Wardell's Twitter feed includes one tweet about Guardians 3 in a recent series of posts focused on the MCU's Phase 4:
"Rocket's creator is the High Evolutionary," the leak reads. "Drax is in for a big surprise when he discovers his daughter is alive. Rocket also gets a love interest in the form of Lylla. Nebula and Star Lord will grow into closer friends."
Wardell name-dropping Rocket not once, but twice, in this short but very informative tweet support the theory that this gun-toting trash panda will become a focal point (if not the film's surprise lead, sorry Star-Lord) of Guardians 3 with a dedication to showing his origins and giving him a love interest. It's unclear how Wardell gets the information to support their claims, but it's hard not to feel like there's some truth to them, especially when Gunn's comments to Deadline only serve to back up the leaks.
More importantly, after clearly stating that he sees himself in Rocket, Gunn's alleged plot for Guardians of the Galaxy 3 could also double as a redemption story for the director himself. It's easy to envision a scenario where Gunn, now involved once again in a film franchise he built from the ground up, refocuses the arc of the entire Guardians of the Galaxy series so he can speak to his audience through Rocket.
By developing a dominant story for the character, Gunn may also find a way to both apologize and endear himself once again to any Marvel fans who doubted him.
Guardians of the Galaxy 3 is scheduled for release sometime during the MCU's Phase 4.