Galaxy S10 5G: Verizon, Carriers for the U.S.'s First 5G-Ready Smartphone
Availability is limited for now.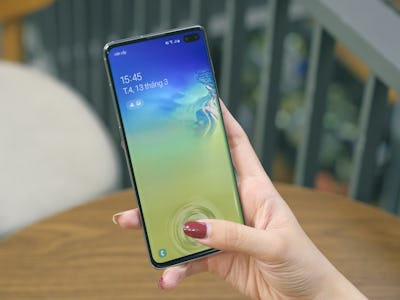 Unsplash / Tinh Khuong
Samsung's first 5G-enabled phone, the Galaxy S10 5G, became available for purchase across the United States Thursday starting at $1,299. For now, Verizon is the only carrier offering the phone, which has been available for pre-order late in April from the smartphones exclusive carrier. That said, other carriers are expected to begin offering the U.S.'s first 5G-enabled smartphone from a major carrier in the coming months.
The Galaxy S10 5G is the first truly 5G-supporting handset to become available in the U.S., but it has other allures. It's the largest of any of the other S10 phones announced, and packs a stunning 6.7-inch OLED display, powered by a 4,500 mAh battery, five cameras, and up to 512GB of internal storage.
Specs-wise, that puts the Galaxy S10 5G at the top of the Samsung roster. Particularly in light of the troubles with the Galaxy Fold, Samsung's other premium smartphone for the year, the S10 5G will be particularly attractive to people looking for 2019's best-in-class Android. But there's a catch.
Its 5G capabilities will not be available across the U.S., and the quality of service will likely vary based on which carrier you choose. So, if users want to purchase the S10 5G specifically for its access to 5G, they'll want to first clarify their carriers' plans for rolling out infrastructure in their area. The 5G rollout is expected to take a couple years, so buying a high-end smartphone for this reason won't make sense for everyone.
Here's how to get your hands on the S10 5G, when the other cellular carriers should begin offering the smartphone, and where in the country its 5G capabilities will actually work.
Galaxy S10 5G Specs
The S10 5G was Samsung's cream of the crop this year. Here's what to expect to come with the device upon purchase.
Display: 6.7-inch OLED with 1,440 x 3,040 resolution.
Memory: Up to 512GB of storage and 8GB of RAM.
Battery: 4,500 mAh battery with 25-watt charging and 15W wireless charging.
Processor: Qualcomm SDM855 Snapdragon 855.
Ports: 3.5mm headphone jack, Dual SIM support, USB Type-C charing.
Rear Cameras: 12 megapixel wide lens, 12MP telephoto lens, and a 16MP ultrawide lens.
Front Cameras: Two 10MP wide lenses.
Galaxy S10 5G on Verizon
Verizon is Samsung's premiere launch partner and is offering a handful of promotional deals. Interested buyers can purchase the 256GB or 512GB variants for an upfront cost of $1,299 or $1,399 respectively. Alternatively, they can opt to sign up for a two-year, interest free payment plan of $54.16 or $58.33 a month.
The carrier is also offering trade-in deals that can cover up to $450 of the cost to buy the S10 5G. Anyone who switches to Verizon from another carrier is also eligible for a $200 prepaid Mastercard, which they can use toward paying off the phone. So if a user were to trade in their iPhone X and switch carriers, they could have the 256GB S10 5G for only $450.
If users order online today, they should expect it to arrive in the mail by May 20.
Here's a list of all of the phones Verizon is accepting for its trade-in deal and how much money they'll net users:
So far Verizon has announced that its 5G coverage will soon become available in 22 U.S. cities. The company promised to have it up and running in 30 cities by the end of 2019.
It's important to note that when Verizon announced its coverage in Chicago and Minneapolis, it said the new signals would be concerned in specific locations, like the Loop in Chicago and the Downtown area in Minneapolis. The same is true for the following cities when their roll-outs begin, and Verizon hasn't yet specified which suburbs and neighborhoods will be getting coverage.
Chicago, Illinois
Minneapolis, Minnesota
Atlanta, Georgia
Boston, Massachusetts
Charlotte, North Carolina
Cincinnati, Ohio
Cleveland, Ohio
Columbus, Ohio
Dallas, Texas
Des Moines, Iowa
Denver, Colorado
Detroit, Michigan
Houston, Texas
Indianapolis, Indiana
Kansas City, Kansas
Little Rock, Arkansas
Memphis, Tennessee
Phoenix, Arizona
Providence, Rhode Island
San Diego, California
Salt Lake City, Utah
Washington DC
Verizon Coverage Plans
Customers interested in hopping on Verizon's 5G network will have to sign up for one of two existing 4G LTE plans: Beyond Unlimited or Above Unlimited. A line on these plans costs $80 and $90 per month respectively and adding 5G service to them will cost an extra $10 per month. That said, users who take advantage of the promotional window will have the $10 fee waived for an undetermined amount of time, likely however long it takes for the other carriers to begin rolling out their own 5G-hardware related promotions.
Galaxy S10 5G on Other Carriers
This all means that 5G aspirants who want to stay with AT&T, Sprint, T-Mobile, or other carriers will remain in limbo for the foreseeable future. Currently, Samsung isn't even selling an unlocked version of the phone, so simply slotting in a different SIM card won't work.
Verizon has pushed especially hard to be the U.S.'s lead carrier when it comes to 5G service. It also secured a deal with Motorola to be the exclusive provider of the Moto Z3, a modular smartphone that can access 5G networks using an attachment.
While the company has locked down these early deals, its 5G coverage is still very limited. The S10 5G is undoubtedly a beastly smartphone, but if users are most interested in accessing 5G it might be worth waiting another year or so to avoid the spotty connection that has been reported during 5G roll out.