Verizon S10 5G: Pre-Orders, Price, Release Date, 5G Rollout Schedule
But is a $1,300 worth it for potentially spotty 5G service?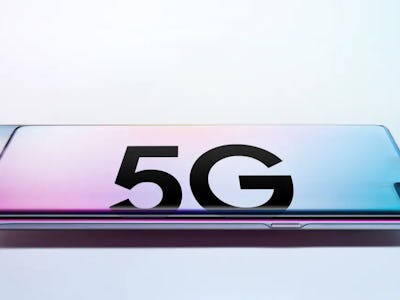 Samsung
Verizon's 5G initiative has taken another step forward. On Thursday, the company revealed 20 additional cities that would be among the first in line to get 5G-enabling infrastructure. It also became the first cellular carrier to begin offering pre-orders for Samsung's Galaxy S10 5G smartphone.
The newly announced batch of towns will join Chicago, Illinois and Minneapolis, Minnesota, the first cities in the U.S. to access Verizon's 5G network. The company says that the 20 cities will receive coverage throughout 2019. Beyond saying the networks would be active some time this year, Verizon was a little hazy on the timeline. A company spokesperson declined to elaborate in an email to Inverse.
As long as Verizon remains quiet about when and where — exactly — the service will become available, shelling out more than $1,000 for a 5G phone will remain a tough sell. Coverage in Chicago and Minneapolis has also been less than comprehensive: One Chicago tech writer called compared searching for a 5G signal to "panning for gold" in Digital Trends.
"We are constantly building out and expanding our 5G footprint and you will see it increase week by week and month by month," the company said in its announcement.
Here are the new urban areas that will receive Verizon's 5G Ultra Wideband service:
Atlanta, Georgia
Boston, Massachusetts
Charlotte, North Carolina
Cincinnati, Ohio
Cleveland, Ohio
Columbus, Ohio
Dallas, Texas
Des Moines, Iowa
Denver, Colorado
Detroit, Michigan
Houston, Texas
Indianapolis, Indiana
Kansas City, Kansas
Little Rock, Arkansas
Memphis, Tennessee
Phoenix, Arizona
Providence, Rhode Island
San Diego, California
Salt Lake City, Utah
Washington DC
These Places Might Have Spotty Coverage
In February, Verizon promised that it would bring 5G service to 30 U.S. cities. Thursday's announcement puts the tally at 22 cities so far, so we should expect another eight announced cities this year. But it still remains unclear how comprehensive the coverage in these new cities will be — essential information for anyone even thinking of picking up one of these expensive devices.
When the first company announced coverage in Chicago and Minneapolis, it said the new signals would be concentrated in specific locations, like The Loop in Chicago and the Downtown area in Minneapolis. It seems possible that the same will be true for the aforementioned cities when their roll-out begins.
T-Mobile, AT&T 5G Maps
Your odds of "panning for gold" aside, Verizon is still the first carrier to begin getting 5G service signals into the hands of consumers.
AT&T recently announced that its 5G mobile network would go live in seven more cities on April 9, these included: Austin, Los Angeles, Nashville, Orlando, San Diego, San Francisco, and San Jose. All in all, the carrier now offers 5G services in 19 U.S. cities, but so far these networks are only accessible with a NETGEAR Nighthawk 5G mobile hotspot, which AT&T CEO Randall Stephenson said on this week's earnings call is being used "exclusively" by business customers at the moment.
T-Mobile has announced that it will aim for "nationwide" coverage by 2020 and began laying groundwork for 5G connectivity in 30 U.S. cities back in 2018. But the carrier hasn't specified its full roster just yet, just that customers in New York, Los Angeles, Dallas and Las Vegas will be the first to gain access.
Samsung Galaxy S10 5G Pre-Order Promotions
Some early adopters will still be tempted. And if you live in the Chicago Loop or Downtown Minneapolis, for example, or one of the other trendy areas where 5G signals will be reliably within reach, Verizon has sweetened the pot with a series of promotions to make the Galaxy S10 5G more enticing.
New and existing customers can trade in an eligible smartphone and save up to $450. The discount will be offered as monthly bill credits.
Switchers can get an additional $200 prepaid Mastercard if they switch to Verizon, purchase a Galaxy S10 5G on a device payment plan, and sign up for Verizon Unlimited.
All customers that preorder a Galaxy S10 5G are eligible for a free VIP Kit that includes a pair of Samsung Galaxy Buds and a Samsung Wireless Charging Battery Pack.
Is the Galaxy S10 5G Worth It?
It's also worth noting that even putting 5G-capability aside, the Galaxy S10 5G is still a beastly handset. It has a 6.7-inch OLED screen, comes with a 4,500mAh battery, three rear cameras, two front cameras, and up to 512GB of internal memory. All of that could run you up to $1,300.
Specs-wise, that puts the Galaxy S10 5G at the top of the Samsung roster. Particularly in light of the troubles with the Galaxy Fold, Samsung's other premium smartphone for the year, the S10 5G will be alluring for people looking for 2019's best-in-class Android. But if you're truly in it for the 5G-browsing, you might want to hold off until 5G coverage maps are more widespread.
An alternative might the Galaxy S10+, which come with a smaller 6.4-inch display and marginally reduced specs. At a $999 starting price it might be worth the savings, especially since 5G isn't widely available just yet.