PS5 and the New Xbox Will Have Different Audiences for One Major Reason
Could this be the end of the console war?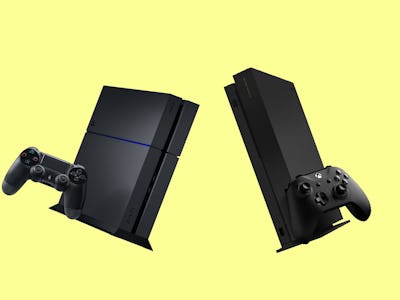 Danny Paez
A new generation of console gaming is on the horizon, and the heated rivalry between console monoliths, Sony and Microsoft, doesn't look like it will cool.
The PlayStation 5 is expected to revolutionize in-home VR, while the Xbox "Scarlett" systems will be centered around Microsoft's xCloud streaming.
Some industry observers have suggested that Microsoft has an early edge in the next-gen console war, because cloud gaming is expected to become more widely adopted over the next couple of years at a rate faster that VR adoption.
Tom Wijman — a Senior Market Analyst at the gaming market analytics firm Newzoo — tells Inverse that the next generation of gaming systems could be when the console war is settled with a truce.
"The strategies are not necessarily aimed at the same audience, so there is definitely a scenario where both work," he said. "[Gamers don't have] to rely on VR or cloud gaming — there are plenty of scenarios where players use both," he said. "Particularly as Microsoft's games will be available with or without an Xbox console, it will be easier than ever for players to play both PlayStation and Microsoft games."
Both companies have taken their current consoles' overall performance and leaned into their strengths to shape how their next systems.
Sony's PS4 is this generation's most popular console, with more than 91 million units sold throughout its lifetime. While Microsoft is expected to stay into third place, in terms of 2018 sales, behind Nintendo and Sony.
As Wijman sees it, Sony's dominant position will allow it to continue striving to make a top-tier console with industry-leading specs and VR. Meanwhile, Microsoft is trying to tap into a whole other audience, by offering a subscription-based cloud service that will take Xbox games outside of the console to smartphones and tablets.
"Sony's strategy is all about offering great content to the people that love to play their games — investing more in VR is just an extension of that," he said. "Microsoft, on the other hand, is changing its focus to services over hardware. Cloud gaming is just the distribution platform that has the possibility to reach the largest audience."
The PS4 has clearly struck a chord with gamers that will more than likely purchase to PS5. While Microsoft's xCloud wants a slice of the more casual and ballooning mobile gaming market, which is forecasted to be worth $100 billion by 2021.
Gamers that swear by consoles will be able to choose between Microsoft and Sony's high-end devices. But regardless of their choice, cloud gaming will allow all gamers — casual or hardcore — to enjoy AAA titles regardless of what kind of hardware they have access to.
The console war could be reaching a time of peace.