'Fortnite' Season 9 Teaser 3 Hints at Huge Tilted Towers Changes and "Neo"
Tomorrow, the future will be now.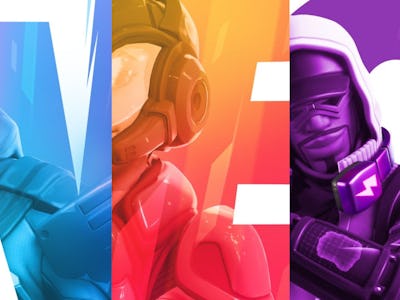 Epic Games
The third and presumably final Fortnite: Battle Royale Season 9 teaser is here, and yet the overarching theme of the new season makes less sense than ever. What's happening to Tilted Towers? What does "NEO" mean? Let's break it down.
Epic Games released the new teaser Wednesday morning. The overall design style is similar to the first two teasers: There's a new character featured as part of a giant, colorful letter with a white background.
This third character looks like a repurposed version of the male Scout outfit but his clothing resembles Teknique. He's also sporting some goggles and headphones, so does that make him some kind of apocalyptic DJ from the future? That sounds like something Fortnite might do.
"The Future is Tilted," the third caption also reads. Teasers 1 and 2 followed this same format of "The Future is …" So far, the future is Unknown, Bright, and Tilted. The capitalization implies that these could refer to the names of these new skins, but "Tilted" also has a bonus meaning in the world of Fortnite.
"Tilted" no doubt also refers to Tilted Towers, easily the most popular landing destination on the Fortnite island since the very beginning. It's the map's largest named location in terms of buildings, and during an in-game event on Saturday, May 4 called the "Unvaulting," a volcanic eruption destroyed most of the city.
Each of these three teasers includes a giant letter spelling out "NEO," which literally means "new" or "revived form of." Some fans think this is further indication of the futuristic theme, but others think it might mean Tilted Towers will be rebuilt as a futuristic city. Currently, a "Modern Towers" island in Fortnite's creative mode shows one version that seem practical.
Epic Games creative director Donald Mustard also tweeted another hint: "From the ashes, rise."
Clearly, something will rise out of the ashes after that recent volcanic eruption. That could just be a rebuilt Tilted Towers. Or maybe it has something to do with dragon/snake eggs that've been around for awhile? Could we finally see a kaiju attack the island?
The only thing for certain is that we'll know more tomorrow morning when Fortnite Season 9 begins.
Fortnite: Battle Royale Season 9 begins Thursday, May 9 shortly after 5 a.m.