5 Big Fall Albums to Look Forward To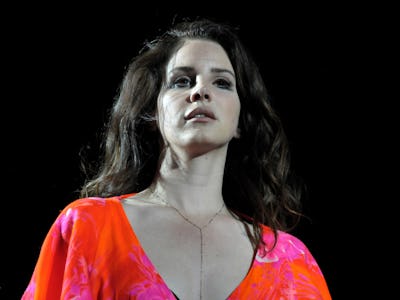 Katie Stratton/Getty Images for Coachella
It's been the Summer of Future, Summer of the Weeknd, Summer of So Much More. But summer is coming to a close, and there will be more to look forward to in the Fall of 2015. We don't know everything that autumn will bring, but we do know it will be the Fall of These Five Albums.
1. Lana Del Rey: Honeymoon [September 18]
Lana Del Rey's new album is shaping up to be the perfect fall comedown from the summer. There's the languid title track, the poppier "High by the Beach," and the forlorn ballad "Terrence Loves You." Lana hit her stride last year on Ultraviolence, completely owning her "tortured mistress" persona. She's melodramatically sad and somber — the soundtrack to falling leaves.
2. CHVRCHES: Every Open Eye [September 25]
CHVRCHES's Lauren Mayberry sounds sharper and more aggressive on Every Open Eye's lead single "Leave a Trace." The band's debut, The Bones of What You Believe, was a melodic wonder, but the songwriter aired on the side of pop vagueness. But so far, Mayberry's metaphors have an improved clarity, as on "Never Ending Circles." CHVRCHES make otherwise cold synths sound warm and inviting.
3. Deerhunter: Fading Frontier [October 16]
Deerhunter announced the news of its upcoming album, Fading Frontier, with a really creepy gif of Bradford Cox turning into his dog, Faulkner. On the album's first single, "Snakeskin," Cox's ethereal vocals provide a great contrast to the song's down-to-earth guitar riffs. With the "Frontier" album title and Cox's overalls, the Georgia band may be experimenting with a more country-tinged sound.
4. Kurt Vile: b'lieve i'm goin down… [September 25]
On b'lieve i'm goin down…'s "Pretty Pimpin," Kurt Vile updates a classic songwriter trope: the stranger in the mirror. Vile's lyrics are as dense or obvious as you'd like to make them. He can't recognize himself, which could mean he's having an existential crisis or that he's just really high. Vile's chugging electric guitar, played quickly and nervously, mirrors his own anxiety. He's a 21st-century folk singer who will describe his own wardrobe as "pretty pimpin'."
5. Boots: Aquaria [November 13]
Since breaking through as a producer on Beyoncé, Boots (Jordan Asher) has worked with Run the Jewels and FKA twigs, and released two projects of his own. This fall, he'll release his proper debut, Aquaria. The title track (featuring Angel Deradoorian formerly of Dirty Projectors) is an electro-funk jam. His earlier work on WinterSpringSummerFall felt safe compared to what he accomplished with Beyoncé. A real talent, Asher brings the panache to "Aquaria" that he typically reserves for others.