iOS 13: The 5 Biggest iPhone Changes, According to WWDC 2019 Rumors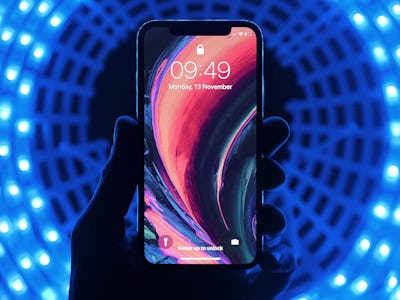 Unsplash / Youssef Sarhan
iOS 13 is set to make some huge quality-of-life changes to the iPhone and iPad, eliminating many of the most widespread quibbles about Apple's built-in tools. Several of the most noteworthy changes will make using your smartphone feel a lot more like using a computer, perhaps laying the foundation for Apple's long-term vision to unite all of its devices under a single operating system.
Many of the biggest upgrades were confirmed by a recent Bloomberg report published Monday, which revealed that the company plans to unveil a number of headline features at the annual Worldwide Developers' Conference. Alongside a macOS 10.15 update that will make it easier to bring iPad apps over to the Mac, and a watchOS 6 update that brings an app store to your wrist, Apple is expected to unveil a major new upgrade as part of its annual mobile OS update that will ship some time in the fall.
While some of the upgrades seem like window dressing — like, say, a proposed keyboard that lets users swipe across the keys to write new words, a feature which sounds a lot like SwiftKey or Swype — some of them could greatly improve your experience. Beyond boosts in speed and fewer software bugs, five features in particular will rectify some of users' biggest gripes about using the iPhone.
1. Dark Mode
Apple may finally allow iPhone users to put their dark pixel-enhancing OLED screens to good use. The company is expected to introduce a darker user interface designed for nighttime use, and which would be activated from the Control Center similar to other night-focused features like Do Not Disturb and the Clock app.
The company first introduced OLED iPhone displays, capable of switching off individual pixels, with the launch of the iPhone X in 2017. This was followed by the iPhone XS and XS Max the following year, with the XR notably using older LCD technology as a means of differentiating its feature set from its more expensive siblings.
Dark modes have grown in popularity on the back of mounting concerns about screen time and its effect on mental health. Twitter has had a dark mode since 2017, and Facebook Messenger recently rolled out a similar feature just last month at F8. Bringing dark mode to the iPhone will help standardize this toggle across apps, and eliminate the need to manage settings for each individual app.
Hopefully, this will also mean no more getting blinded at night when you open Messenger and forget to switch on the individual app's dark mode.
2. More WhatsApp-Like iMessage Features
iMessage is getting some of the most popular features found on the competitor WhatsApp, the world's largest messaging app owned by Facebook. New additions reportedly include a profile picture visible to select groups of people, plus a display name with similar privacy controls.
Apple is not the only one looking to WhatsApp-ify its messaging service. The move follows announcements by Facebook at its developer conference earlier this month where it detailed plans to begin encrypting messages by default. Apple, like WhatsApp, already offers both of these features on iMessage.
The upgrade will also add an option to send sticker versions of Animojis and Memojis using the conversation view. The feature uses the front-facing depth sensor on recent iPhones to track the user's face and enable them to control an on-screen character. It's no face unlock, but it shows how Apple is considering new augmented reality uses as it expands its toolsets.
3. Find My iPhone, but for Your Keys
One of Apple's all-time most helpful features — Find My iPhone — will soon help you track down other perennially lost objects as well. The company reportedly plans to expand location tracking functionality under a project codenamed "GreenTorch." According to a 9to5Mac report from April, Apple plans to combine Find My iPhone and Find My Friends into a single app that may also include support for personal item tracking, similar to the Tile Bluetooth dongles, which could sound an alert when the tile is too far away from them when out in public.
"Hey Siri, where did I put my keys?"
4. Using Your iPad As a Second Mac Screen
Apple may be about to bring the functionality of third-party apps like Duet Display to the iPad, which would enable users to extend their Mac's desktop screen and display notifications. The upgrade could save users from having to shell out on an external screen, but also may come with a drawback: By eliminating the need for third-party apps, popular services may be in danger of becoming obsolete — also known as getting "Sherlocked."
5. More Computer-Like File Management
iOS 13 might also introduce some changes that make the iPhone and iPad feel more like a Mac. Apple is reportedly planning changes to the Files app, first introduced in 2017, which would enable greater support for third-party apps. The rudimentary file management system has its quirks, namely offering access to a small selection of the iPhone's files, but greater integration could make it easier to establish a workflow entirely based around the company's phones and tablets.
Apple is also making some changes that could make this Files app work even better. Safari may receive a downloads manager, similar to the ones commonly found on most computers, which would enable users to access a simple list of all the files downloaded through the web browser. The iPad will also get the ability to move through alternate versions of the same app, also like a computer, meaning iOS could become a much more Mac-like operating system.