Facebook Messenger: How Its 'Privacy Update' Takes the Best of WhatsApp
Facebook Messenger is learning from its bigger brother.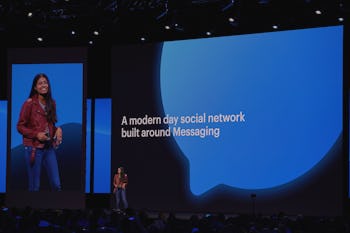 Facebook
Facebook Messenger is taking inspiration from WhatsApp, the company's larger messaging app that's historically focused more on privacy and straightforward communication. At the firm's F8 developer conference this week, head of consumer product Asha Sharma outlined a vision for Messenger that signaled a clear break from the past.
"The concept is that if we were to rebuild the social network today, we would do so around messaging," Sharma said on the first day of the regular conference on Tuesday in San Jose, California. "For Messenger, our mission is that everyone communicates with the people they care about on a fast, private, interoperable network."
It's a move that suggests Facebook is listening to what users like about WhatsApp. Messenger is by far the most-used smartphone messenger in the United States with 105 million monthly active users in October 2018, with Snapchat in second place with around half as many, while WhatsApp trundles along in third place with just 22.25 million users. Globally, however, the story is very different: WhatsApp ranks number one with 1.6 billion monthly active users in April 2019, versus Messenger in second place on 1.3 billion in the same period.
WhatsApp's development firm, which Facebook bought for $19 billion in 2014, followed a rather different approach to its parent company. Messages are encrypted by default, the app runs fast, and the focus is on directly speaking with contacts instead of broadcasting to an entire network as with Facebook proper and Instagram. Co-founder Brian Acton left Facebook in September 2017, and six months later posted his support on Twitter for deleting Facebook amid privacy scandals.
The other co-founder, Jan Koum, left in April 2018 amid reports of a culture clash with the more privacy-lax parent company.
This week, Facebook appeared to strike a more conciliatory tone that it was wrong to dismiss privacy. CEO Mark Zuckerberg declared that "the future is private" with a series of eye-catching pledges that seemingly worked to repair the damage caused by Cambridge Analytica and other scandals.
On the Messenger side, this meant a new app that acts decidedly more like WhatsApp.
Facebook Messenger: A Leaner, Meaner App
A new fifth version of the app, rewritten from the ground up under the internal codename "project lightspeed," is set to reach iOS later this year. This promises an app size of under 30 megabytes, down from the gargantuan 126 megabytes of the current version. That brings it below WhatsApp, which clocks in around 96 megabytes.
The new version will also load up in around 1.3 seconds, resulting in a leaner, more straightforward app that gets people messaging faster. Facebook is also targeting improvements to battery usage.
"Over the next year, we plan to make Messenger the fastest private communication app on the entire planet," Sharma said.
Facebook Messenger: Encryption by Default
Perhaps one of its biggest changes is the switch from encryption as something of an afterthought to the app's default mode of operation. WhatsApp joined the end-to-end encryption party in April 2016, ensuring that theoretically, nobody should be able to read a user's messages except the intended recipients. Facebook's Secret Conversations feature debuted six months later, denoted by a black bubble instead of blue, but it required calling up a special options menu and opening up a new conversation.
"We have begun the journey to make Messenger end-to-end encrypted by default," Sharma said.
Facebook Messenger: Joining the Desktop Party
As Sharma demonstrated the new features coming to Messenger like watching together and a new close connections page, she also revealed another touch of WhatsApp inspiration — a desktop app, coming to Windows and macOS in the fall.
"We're going to allow all of this on every surface, in every country, with the introduction of our brand new Messenger desktop app," Sharma said.
This is an area where Messenger may pull ahead of WhatsApp. The latter messenger requires the smartphone to connect to the same network as the computer to use the desktop app, meaning a user can't access their contacts if they leave their phone behind. It's unclear whether Messenger will have the same limitation in any form, but if not, another change Messenger is making could also help WhatsApp desktop users that have forgotten their phone.
Facebook Messenger: Actually Working With WhatsApp
Possibly the biggest boost from an end-user perspective is the ability to speak to those 1.6 billion global users on WhatsApp through Facebook Messenger. The new system will enable users to call and message friends on WhatsApp, Facebook Messenger and Instagram without worrying about where they are.
"A hundred years ago people couldn't talk to each other unless they were on the same phone network," Sharma said. "A hundred years later, the same is true with messaging…we believe that people should be able to choose to talk to anyone anywhere without thinking about where to reach them."