Here Are the Biggest Changes to Facebook's Business -- and Your Privacy
From VR-headsets to Etsy-like marketplaces, Facebook is moving from selling ads to selling stuff.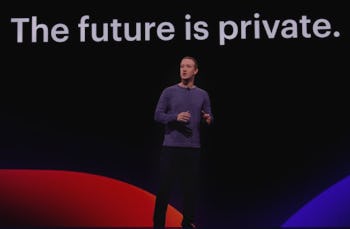 Facebook 
Last month, Facebook CEO Mark Zuckerberg published a blog post on Facebook laying out his new vision for a "privacy-focused" social network. On Tuesday, flanked by a fresh-faced slate of deputies, Zuckerberg and his team fleshed out that vision with a suite of new features and product changes.
"I know that we don't have the strongest reputation on privacy right now, to put it lightly," joked Zuckerberg in his opening remarks for F8, Facebook's annual developers conference. "But I'm committed to doing this well."
There were a few moments Tuesday that made it a little difficult to take Zuckerberg at his word — the smug privacy joke landed with a thud — but on the whole, the company does seem to be taking the global call for privacy more seriously. This was mostly on display in the several new ways that Facebook proposed it could make money besides selling targeted ads or products from its nascent hardware wing.
The heart of Facebook's new effort involves shifting engagement from public interactions to private ones (or "from the town square to the living room," as the speakers usually put it.)
Perhaps most notably, executives also said that Facebook Messenger would move to end-to-end encryption by default, though the company didn't yet offer a time frame on this change (Facebook also didn't immediately respond to a request for clarification.)
But the biggest part of Facebook's privacy push isn't just about encrypting more content, it also seems to be about selling more products, and services, from which it can take a cut. Facebook announced a number of new marketplaces — for job candidates, an Etsy-like product that would let you buy directly from creators on Instagram — that make it clear the company wants to not only advertise products but also to earn commissions and sell its own directly (despite being widely mocked when it rolled out, Facebook's video screen Portal will also begin shipping to Canada in June and some European countries this fall.)
In the long run, re-structuring the business so that's it's less dependent on selling targeted ads may be just as important as consumer protections like encryption and ephemerality, if not more so. Here are some of the biggest changes to Facebook's business, and how they could affect your privacy.
More Commerce In Messenger
Zuckerberg clearly thinks a big part of the privacy strategy involves shifting the way it makes money from the Newsfeed to Messenger. On the user side, a big part of this push will be creating a Newsfeed-like product within Messenger that will operate a little bit like Stories do in Instagram but only for your closest friends.
"The Messaging apps are going to be the foundation of this vision," Zuck said. "Conversations will happen in threads instead of public posts and forums."
Facebook says that all these Message communications will be end-to-end encrypted, so it also started rolling out a bunch of new enterprise tools that will help it make money. Starting today, for example, users will be able to make appointments with any number of the 300,000 companies who have built bots for the platform (not unlike Google's Duplex). On the developer end, Facebook is rolling out a suite of lead generation tools. All of these moves seem directed at moving Facebook from targeted Ads or promoted posts and toward referral marketing and lead generation.
WhatsApp Payments
Another interesting part of this push — and another potentially massive money-maker for Facebook — is the introduction of WhatsApp in payments. This service is already being tested in India, where the prevalence of WhatsApp has helped make it immensely popular, as the Financial Times reported in January.
Facebook execs talked a lot about how the goal is to make payments as easy as sending someone a picture. Given the incredible ease of P2P transfers within a single currency — Venmo, etc. have already solved this problem, and don't make much money doing it — WhatsApp's push to payments seems like it could be a push to get into international payments, which remain cumbersome and expensive. Remittances are also huge in India, thanks to its large diaspora, and account for nearly 3 percent of its GDP. In other words, simply processing payments in India could be a huge business for Facebook.
More Non-Public Communication
While a privacy-scandal plagued company moving into dating is a little awks, as far as optics go, it does align with Facebook's overall push away from public forums to more direct lines of communication.
Facebook says that emphasizing non-public communication is also the main emphasis of its latest redesign, which will instead highlight Groups around niche interests and communities (Facebook users were already moving in this direction anyway, but whatever). To maintain privacy, Facebook is also introducing some interesting functions like anonymous posting in certain situations, for example medical forums.
In addition to helping users plan dates and find one another using location sharing, Facebook will also form groups based on neighborhoods, which it will also populate with events and new businesses. The move, it says, will help people find real friends in their neighborhood, or a neighborhood where they're staying while traveling.
There is a cynical explanation for the emphasis on groups, too. After all, this push will help Facebook to shift some of the responsibility for stemming misinformation and hate-speech onto group moderators. Facebook is no saint: Charging a percentage of certain transactions or other ways the company could make money could introduce entirely new incentives to manipulate or snoop on its users.
A patent filing unearthed by Adweek tech reporter Shoshana Wodinsky provided further reason to be skeptical of Facebook's motives. The patent, according to its description, pertained to gleaning household demographics based on image data.