What Is Hyperandrogenism? How the Natural Condition Affects Caster Semenya
On Wednesday a court ruled Semenya must use hormone-suppressing drugs to compete.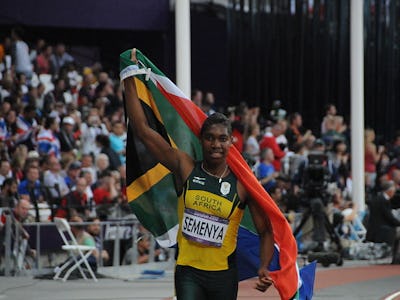 Wikimedia Commons
Caster Semenya is a winner. The South African runner ranks first in the world for the women's 800 meters and is second in women's overall. She's won gold medals in two Olympics and in two World Championships. But over the past 10 years, her validity as a winner has come under fire because she's believed to have hyperandrogenism, a condition that causes her body to naturally produce male sex hormones at higher levels than most women.
This public scrutiny reached a new level on Wednesday when the Court of Arbitration for Sport (CAS), the high court of international sports, ruled that Semenya will have to take hormone-suppressing drugs if she continues to compete in her specialty, the 800 meters.
The decision was made after Semenya legally challenged regulations the International Association of Athletics Federation (IAAF) put into place in 2018. The regulations required all athletes with differences in sexual development (DSDs) to reduce and maintain their blood testosterone levels below 5 nanomoles per liter for six months before competitions. The regulations also require that athletes competing in women's races "be recognized at law either as female or as intersex."
On average, most women have natural testosterone levels of 0.12 to 1.79 nanomoles per liter, while the male range is 7.7 to 29.4 nanomoles per liter. Semenya's actual levels, meanwhile, are publicly unknown. The 5 nanomoles per liter benchmark is supported by one 2018 study published in Endocrine Review.
She was, however, singled out in 2009. After she won the World Championships, she was subjected to "gender verification tests," a humiliating 11-month process. Alleged leaked results published by Australia's Daily Telegraph claimed she has internal testes that produce testosterone, and subsequent media reports alleged she was a "hermaphrodite." For Semenya, who identifies as female, the experience was a traumatic ordeal.
Stanford University bioethicist Katrina Karkazis summed it up this way to the New York Times: Semenya was simply "too fast and supposedly too masculine" for western standards.
But the argument from the IAAF is that DSD athletes have an unfair advantage in muscle mass, strength, and oxygen-carrying capacity, claims that are debated by scientists: In 2015, researchers explained in the Journal of Clinical Endocrinology & Metabolism that while testosterone levels may not always accurately predict performance, there are "grounds to claim that very high levels of blood T increase athletic performance in females with androgen sensitivity" because these levels influence muscle mass. However, a 2014 study in Sports Medicine concluded that "there is no convincing evidence to support the view that hyperandrogenism is associated with performance advantage in female athletes."
Critics of the CAS ruling consider hyperandrogenism, which occurs in between 5 and 10 percent of women, a vehicle for propagating strict and outdated definitions who is a man or a woman. Those in the middle maintain that hyperandrogenism doesn't define gender but admit that because androgens can influence performance, some individuals with DSDs may benefit from their elevated androgen levels, so some regulations are necessary.
Meanwhile, sports scientist Ross Tucker, who served as an expert sourced for Semenya's legal team, claims that the hormone-suppressing drugs she is expected to take could very likely reduce her times by seven seconds — a big difference in elite sports. It's also unknown how these treatments would affect athletes' overall health, which the CAS acknowledges could "demonstrate the practical impossibility of compliance which could, in turn, lead to a different conclusion as to the proportionality of the DSD regulations."
For Semenya, it's an encroachment on her right as a female athlete to compete naturally — and forces her to consider whether she'll take hormone-suppressing drugs.
"I know that the IAAF's regulations have always targeted me specifically," she announced. "For a decade the IAAF has tried to slow me down, but this has actually made me stronger."