Venmo Credit Card: Why Is a "Futuristic" Payment App Pivoting to Old Tech?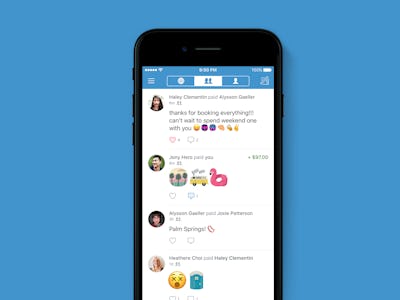 Venmo
Venmo, the Paypal-owned smartphone payment app that enables rapid cash transfers between friends, wants to launch its own credit card, a report claimed Friday. The service joins Apple in looking to a lucrative financial product to boost profits, with the potential scope to attract a more tech-savvy audience keen on frictionless payments.
In perhaps a sign that disrupting the world of big banking is easier said than done: The Wall Street Journal reports that Venmo is considering the idea as it looks with increasing urgency for ways to turn a profit. A decision has yet to be made, but it's expected the firm will announce a card this year issued by Synchrony Financial, a firm that has also offered PayPal consumer credit cards since 2004.
"A Venmo credit card targets the young audience that already relies heavily on Venmo to transfer money to friends," Sara Rathner, NerdWallet's credit cards expert, tells Inverse in an email.
Around 27 million people are expected to pay with Venmo this year according to eMarketer. But its success with young people has also led to big banks cooking clones of their own with payment systems like Zelle. Competing with the big banks is expensive. Venmo is expected to report an annual operating loss of $394 million.
If you've never split a bill with someone in their twenties before, Venmo's app makes it easy to move money between users, even developing a mini-social network to broadcast transactions — a feature that can sometimes lead to unfortunate consequences.
Venmo tends to absorb the costs of these small transactions while making money elsewhere, for example by charging a one percent fee for moving money to a bank account. An initiative to enable businesses to accept Venmo for payments, while charging fees to the merchants, has had mixed results. While CEO Dan Schulman has projected $200 million revenue for the firm, its chief financial officer said in a January earnings call that the firm won't break even for another few quarters.
While the network effect has locked in millions of young people to sharing money, that's a far cry from replacing the merchant-supporting juggernauts of Visa and MasterCard. The company previously launched a MasterCard-branded debit card in June 2018, in hindsight perhaps an early sign that Venmo would need to offer something similar to consumers seeking easy credit through their accounts.
Venmo isn't alone in making such moves. Apple announced a credit card last month issued by Goldman Sachs, with one percent rewards for transactions and higher bonuses for spending on Apple services or using the Apple Pay service instead of the card itself. But the launch, and its lukewarm reception among credit card analysts, should be seen as a warning sign, Rathner says.
"I'd caution Venmo to learn from Apple, whose credit card launch was largely met with yawns," she explains. "A strong brand is good to have, but consumers are going to vote with their wallets for the card that earns them the most rewards."
Cryptocurrency proponents have also recognized the benefits of offering cards, with the ill-fated Litepay system and Coinbase's new card in the United Kingdom, which are supposed to enable users to spend their coins through more traditional payment channels.
Venmo doesn't support cryptocurrency, and at this early stage it's unclear what sort of benefits the company could offer. Integration could create a better user experience, but that pales in comparison to measurable rewards.
"One benefit I see the card providing is waiving the three percent fee to use it to transfer money, but that would be a small perk compared to what other cards offer," Rathner says. "There are so many rewards cards on the market with massive sign-up bonuses and generous cash back rates at places where younger consumers spend the most, like restaurants."
While the prospect of internet-fueled money makes for futuristic headlines, Venmo's drive to generate more revenue from its captive audience may explain why it feels now is the time to introduce old-fashioned plastic cards.