You Can Use Venmo at 'Millions' of Stores but There's a Catch
Retailers may not be so enthused.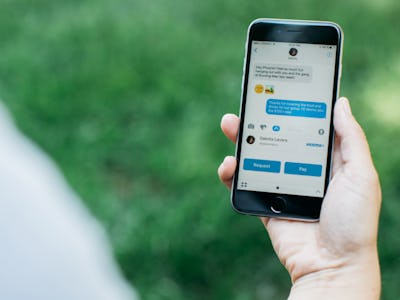 On Tuesday, PayPal, the company that owns Venmo, the company whose brilliant idea was simply adding emojis to payments, announced that Venmo users could buy products at some 2 million retailers in the United States, starting this week. 💰!
In a blog post announcing the news, Venmo puts it plainly: If you're shopping online and you see a PayPal button, you might be able to use Venmo just as easily. So why not just use PayPal? Well, the reasons are unscientific at best. It might be cultural and generational — PayPal is old and doesn't have emoji and many don't use it to settle the bill for brunch like they do with Venmo — but for whatever reason, Venmo will be another option for online purchases. Simply click it and you'll be redirected to the Venmo app (make sure you are running the latest version) where you'll make your payment for whatever it is you bought online.
You can split payments for things with friends, and yes, include emojis, too. (Venmo uses a purchase from Foot Locker split between two friends as a gift for a third friend as an example).
"Download to pay, split and share" is the slogan.
But with the news comes a catch that might slow Venmo from being adopted by retailers as fast as it was with consumers: Ben Mills, head of product, at Venmo, told Reuters that company will charge merchants a fee for processing Venmo payments. Perhaps optimistically, Mills said the Venmo's appeal could increase sales, off-setting any fees. (Maybe!)
The social aspect of Venmo will also take on a new feel with the update. Instead of a newsfeed of your contacts paying each other and using ☕, 🎟️, or just "rent," you'll see where your a friend shopped or split a payment for some online purchase.
A full list of retailers that will accept Venmo payments for online purchases hasn't been released, but Reuters reports that Foot Locker, Lululemon Athletica Inc., and Forever 21 are among them. Also on the list, White Castle 🍔 and Delivery.com, among other outlets.
Venmo seems to be pushing for its users to advocate that businesses accept the emoji-laden app as another form of payment with this call to action on its website, #acceptvenmo.
Also on the horizon for Venmo: The company will reportedly soon allow customers to instantly transfer their Venmo balance to their bank account (now, it could take a few days), for a $0.25 fee. Competitor the Cash App has had this instant-transfer feature for a while, but opts instead to charge 1 percent of the total balance as a fee.
See also Should You Use Paypal or Venmo?