'On My Block' Creators on Jasmine's "Emotional" Backstory, Season 3 Plans
"We would love to see Abuelita, learn a little more about her backstory."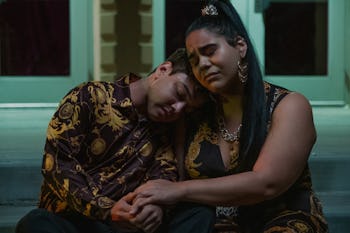 Nicola Goode/Netflix
On My Block wasn't an instant hit when it first launched on Netflix in March 2018, but the show's creators knew they were onto something when detailed fan art and direct messages started rolling in.
Eddie Gonzalez, who developed the show alongside Jeremy Haft (All Eyez on Me) and Lauren Iungerich (Awkward), tells Inverse that the teen dramedy about four lifelong friends growing up in the rough inner-city neighborhood of Freeridge, Los Angeles, resonated with a much wider audience than they ever expected.
"When we created the show, we all felt, if nothing else, we amuse the three of us," he says in a phone interview with Inverse soon after the highly anticipated Season 2 release. "We all had a great time doing it, and we thought it would connect with kids in the inner city, especially having grown up in the inner city. What I was most surprised by were kids, adults, different people throughout the world, who saw themselves in these characters, who saw themselves in people who hadn't been seen before."
Spoilers for Seasons 1 and 2 of On My Block below.
Fans of the show had to wait 12 long months to not only find out what would happen after the finale's shocking Season 1 cliffhanger, but also to see the characters they had fallen in love with grace their TV screens yet again. Expectations for Season 2 were higher than ever. In order to meet those expectations, On My Block had to dig even deeper into the characters' backstories to present something authentic, real, and three-dimensional rather than fall victim to TV character stereotypes.
In the case of Oscar, aka "Spooky" (played by Julio Macias), that meant pushing the character into dangerous new situations.
"You know, at first you think, 'Oh, he's a gang member, he's scary,'" Haft said. "People who are in gangs aren't one dimensional. They don't wake up one day and say, 'I just want to be in a gang.' Life puts you in different situations. … He had to figure out a way to take care of his little brother, and that way, the only way, was the gang."
We get a peak into Oscar's life in the Season 1 episode "Chapter Eight," when we learn why he ultimately became a Santos, but it isn't until Season 2 that we see Oscar start to really peel back layers of his steely facade. This is mostly shown through his relationship with Ruby, who's dealing with the effects of PTSD after he and Olivia are shot at her quince and he subsequently loses her not long after.
Oscar is definitely feeling guilty for putting Ruby in harm's way.
"He did not see this happening to Ruby at all, and he definitely feels the tension," Gonzalez says. "There's a great moment in Episode 5, the episode that Jeremy directed, where it actually didn't make the final cut, but where Spooky, who's gotten [Ruby] out of bed to bring him to the party, says to him: 'How are you feeling? And he goes, 'I feel great.' And he looks at him, and he goes, 'You deserve to be. You deserve to feel good.' And it's just that little moment that you're like, you get it."
Making sure the show's characters were treated like real humans, and not just caricatures, was particularly important in developing not only Spooky's backstory but Jasmine's (Jessica Marie Garcia) too. Jasmine mostly serves as light-hearted, comedic relief in Season 1, but by Season 2, we see someone who is determined, savvy, and not the least bit deterred by what other people think — she even comes up with a way to help Monse, Jamal, and Ruby to "clean" the RollerWorld money to get Cesar somewhere safe.
One would be quick to assume Jasmine's optimistic outlook is borne out of a lack of awareness, but in their goal of creating a fully fleshed-out character, we learn that her positivity didn't come without hardship.
"We discover as she's sitting with Ruby, and we meet her father, that she's had tragedy in her life, as a lot of people do," Haft says. "She's taken the tragedy and she's used it to push herself to be someone that embraces life and loves life."
For the co-creators, however, delving into Spooky's and Jasmine's backstories was only just the beginning. They have plans for other fan-favorite characters they'd like to see played out should Netflix renew the show for a third season.
Abuelita is a big part of the reason Jamal finds the RollerWorld money in the first place. She was one of the few people to actually believe in the myth. So it'd only be fitting for the show to dig more into her past.
"We would love to see Abuelita, learn a little more about her backstory," says Haft, adding that Chivo is likely to crop up again, as we only just learned that the gnomes are reflections of the souls of Los Santos. "I think we would continue on the Chivo story, getting deeper on both [Abuelita and Chivo] for sure. I mean, they're wonderful characters and wonderful actors, and they're very, very fun on set, so more of them is always a good thing."
This means we can likely expect more to be revealed about the gang's long history (and hopefully more of Juanita!).
Monty is another secondary character whose background the creators say they'd love to explore more. After Monse's short reunion with her mother ended in a devastating revelation, Monty was there to remind her she still has a support system back in Freeridge who loves her unconditionally.
Now that we know where Monse's mother, Julia, has been this whole time and why she ultimately left, perhaps we'll get a deeper glimpse into Monty and Julia's past relationship. It was also lightly teased this past season that the Prophets are not the same today as when Monty was growing up, so we can likely anticipate more on that front, too.
On My Block continues to forge a path for a wider-reaching audience by creating a smart young adult series that allows all of its characters to flourish. Let's just hope it's not another 12 long months before we find out what Freeridge is up to next.
On My Block Seasons 1 and 2 are now streaming on Netflix.