In 'On My Block' S2, the Girls Lead the Charge — and It's Never Been Better
If you thought Season 1 was wild, buckle up.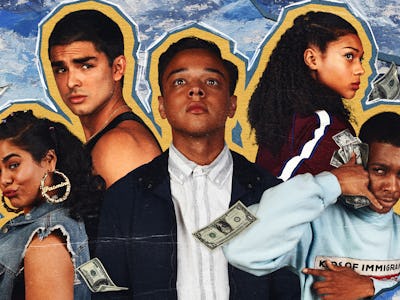 Netflix
After On My Block ended on an anxiety-inducing cliffhanger, leaving literal lives hanging in the balance, fans were left waiting months to find out how the Freeridge community would cope with the fallout from Season 1. It was a lot to unpack, but the Netflix show — co-created by Eddie Gonzalez and Jeremy Haft (All Eyez on Me) and Lauren Iungerich (Awkward.) — does Season 2 justice as it seamlessly weaves its way through some of the trickier plot points introduced, all while maintaining the effervescent youth of its leads and bringing refreshing depth to its supporting characters.
Spoilers for Season 2 of On My Block follow.
The kids on the block have a target on their backs. After that fateful night at Olivia's quince, On My Block Season 2 opens up to reveal Ruby alive, but the tight-knit squad must now grapple with the death of their friend, Olivia, and the haunting reality that Latrelle is still lurking and looking for revenge on Cesar once the truce between the rivaling gangs eventually comes to an end.
Season 2 fast-forwards to a month after the shooting, giving Ruby, Jamal, Monse, and Cesar time to ease back into their friendship dynamic without Olivia. Though we see most of them fall back into their old routines, Ruby, in particular, struggles to move on. Season 2, much like the show's debut season, is not without its pockets of charm but smartly chooses not to shy away from the heavier topics at hand. In Season 2, we see a different side to Ruby. He's still whip-smart, determined, and unable to turn a blind eye to the wrong feng shui at a party, but for the first time, we see Ruby at his most vulnerable, wrestling with survivor's guilt and the effects of PTSD.
On My Block takes its time unraveling this storyline, whether it be in Ruby's sudden lack of faith, his inability to get out of bed, or a panic-induced reaction to party poppers going off as the neighborhood rings in the new year. Despite Freeridge's long-standing gang violence between the Prophets and the Santos, Ruby was still able to hold onto his innocence, be that through a child-like crush, or helping coach Jamal through yet another one of his antics, but in Season 2, his world comes crashing down around him in the most crushing way as he faces the reality of what's happened to him. It's an honest and oftentimes heartbreaking portrayal of PTSD, and one that doesn't get rushed through to make room for the next storyline.
Ruby is no longer able to constantly be the glue that holds the group together, which leads the show into an unexpected, yet delightful shift as Jasmine ( Jessica Marie Garcia) forces her way into the friend group. Season 1's Jasmine is bold, unabashed, and completely over the top. So much so, that it's easy to disregard her as nothing more than a comedic archetype ushered in at moments when the show needs to take a step back from some of its more serious scenes with one of her funny one-liners. In Season 2, however, she consistently manages to steal the show, sometimes in the form of a literal dance-off while donning a magnificent Ariana Grande-style ponytail. We also get to learn a little bit more about Jasmine's backstory, which transforms her character from the sometimes superfluous jokester we see in Season 1 to an endearing and complex character. It would be easy to label her as Ruby's number one sidekick, but in reality, Jasmine is leading the charge.
It's a welcome change to the series, and the presence of girl power in Season 2 doesn't go unnoticed. This is where the series shines, when characters like Jasmine and Monse are able to dominate the male-occupied space in their own path to self-discovery. This season, Monse isn't ready and willing to throw her own needs away for her friends. Instead, we see her make decisions outside of her Cesar peripheral, even if that means leaving him to pursue a long sought-after relationship with her mother. Though her relationship with Cesar continues to blossom and develop (or as much as young love can), she also manages to find a balance between being there for Cesar and not losing herself along the way. Monse is unapologetic about what she wants in Season 2, refusing to settle into the role of the crew's hot-headed, outspoken female friend.
On My Block breathes new life into the young adult genre. It's a cramped space to be sure amidst a host of sick-lit films (looking at you Five Feet Apart) and supernatural teen dramas (Did we really need another offshoot of Vampire Diaries?), but the show manages to pave the way for smarter content about teens that relies on more than manufactured moments to make you feel something. While Season 2 does sometimes struggle to find a balance between tragedy and lightheartedness, On My Block still holds its own as a show with buckets of charm and what will surely be plenty more Goonies-style adventures to come.
On My Block Season 2 is now streaming on Netflix.