Where to Visit Pirate Camps in 'Fortnite' for Buccaneer's Bounty Challenge
Back at those pirate camps, mateys.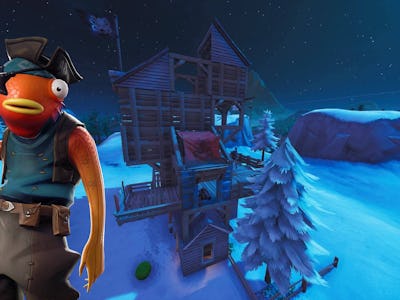 Epic Games
Fortnite: Battle Royale just began a new limited-time series of challenges called "Buccaneer's Bounty," released as part of the version 8.30 update Wednesday morning. The latest update also marks the introduction of Reboot Vans, but the four-day Buccaneer's Bounty ties directly in with the Season 8 theme focusing on pirates and their treasure.
"Avast ye mateys… Drop in and arm yourselves during the Buccaneer's Bounty event!" the patch notes read. "Test your skills in a fresh LTM every single day and collect your very own treasure in the form of in-game rewards by completing free challenges."
Buccaneer's Bounty will be active in Fortnite until Monday, April 15 at around 12 noon Eastern. Each day will feature a unique LTM and a free challenge for all players with a unique reward, with the Boobytrapped emote as the overall reward. In a way, this unique event is pretty similar to the Marshmello promotional challenges leading up to the in-game concert.
Day 1 has players "visit a pirate camp in different matches" a total of 10 times. The reward is Plunder, an uncommon pirate-themed glider that's pretty much just a cool pirate flag.
In theory, the language of this challenge means that players could technically visit the same exact pirate camp in 10 different matches and it would count. The harder part is just going to be actually playing a total of 10 matches and successfully visiting pirate camps enough times before Monday.
Pirate camps have been the focus of several different challenges throughout Season 8, starting with Week 1's "visit all pirate camps." Each of these locations are visible from the map, and definitely from the air as well. Seven of them are evenly distributed around the map, and they tend to have pirate flags flying, making them easy to spot.
The most efficient way to complete this challenge would just be to play 10 matches, landing at the nearest pirate camp each time based on where the battle bus flies.
Each of these locations also reliably have pirate cannons, so for anyone that still needs to complete the challenging involving those, this is a prime opportunity. In some cases, the camps will also have ballers.
The second Buccaneer's Bounty challenge should unlock Thursday morning with the standard Week 7 challenges, so players are in for a busy weekend. They'll have until Monday at 12 noon Eastern to complete the four special challenges.
Fortnite: Battle Royale Season 8, Week 7 should begin the morning of Thursday, April 11.