Nintendo Switch Release Dates: 'Wolfenstein: Youngblood,' 'Hellblade,' More
12 of the hottest titles coming to the Switch this year.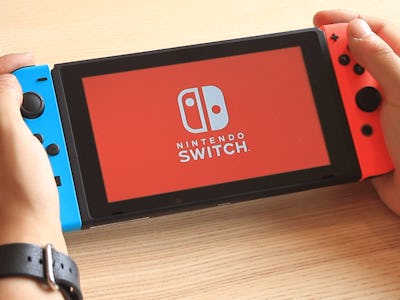 Nintendo
The Nintendo Switch is swiftly carving out a more significant place in the contemporary video game console wars. It already has console exclusives like Pokémon: Let's Go, along with Super Smash Bros. Ultimate, Super Mario Odyssey, and The Legend of Zelda: Breath of the Wild. But by the end of 2019, the Switch will have an even more impressive mix of beloved ports of great games we've all loved on different consoles and even more indie releases.
Also Read: 16 Video Games to Look Forward to in 2019
2019 is already shaping up to be an excellent year for Nintendo Switch owners. It's quickly becoming the perfect console for fans of indie games, while more mainstream games like Smash Bros. will continue to get DLC and additional characters. Plus, what better way to replay several classic Final Fantasy games than on the only core console right now that can go fully mobile?
Here's are 12 games coming to the Nintendo Switch between now and the rest of the year that fans can look forward to.
Hellblade: Senua's Sacrifice
Release Date: April 11, 2019
From the makers of DmC: Devil May Cry, Senua's Sacrifice is a brutal action-adventure game set in the Viking age that was originally released for PC and PS4 in August 2017, but a Nintendo Switch port will be released in just a few days. It's described as "a warrior's brutal journey into myth and madness" in which "a broken Celtic warrior embarks on a haunting vision quest into Viking Hell to fight for the soul of her dead lover." Developers collaborated with neuroscientists to explore psychosis in compelling visual ways.
Final Fantasy X/X-2 Remaster
Release Date: April 16, 2019
Next in a steady string of Final Fantasy ports to the Nintendo Switch is the combo of Final Fantasy X and its direct sequel, Final Fantasy X-2. These international versions might offer the first time many fans can experience exclusive scenes and bonus features that were never part of the original 2001 release on the Sony PlayStation 2. For fans who haven't experienced the game since then, this is the perfect chance for a replay.
Cuphead
Release Date: April 18, 2019
Inspired by 1930s cartoons in style, Cuphead was originally released for Microsoft Windows and Xbox One in September 2017 and then for macOS in October 2018. You play as a character that looks like Mickey Mouse with a cup for a head as he runs and guns his way through wacky levels in an indie platformer known for its unique style and punishing difficulty.
Mortal Kombat 11
Release Date: April 23, 2019
The enduring legacy of brutal fighters murdering each other in increasingly grotesque ways lives on in Mortal Kombat 11, which hits all platforms later this month. Could Mortal Kombat 11 challenge Super Smash Bros. Ultimate as the Switch's most popular fighting game? Probably not, but all multiplayer games are welcome on the Switch.
Final Fantasy XII: The Zodiac Age
Release Date: April 30, 2019
Final Fantasy XII remains one of Square Enix's most divisive modern entries in the beloved franchise, grounded in a baroque plot that's grounded in enough war and intrigue to make it feel more like Game of Thrones than any other RPG from the developer. The Switch HD re-release adds new features, including a New Game+ mode.
Team Sonic Racing
Release Date: May 21, 2019
Team Sonic Racing slaps a fresh coat of paint on the Mario Kart scheme by focusing exclusively on characters from the Sonic the Hedgehog franchise, all racing on tracks designed to follow familiar environments from the core series. With a new Sonic movie due out later this year, the timing feels perfect for this clone.
Super Mario Maker 2
Release Date: June 2019
The widely beloved original Super Mario Maker allowed fans to design their own platforming levels done in the classic Super Mario style, but the sequel adds exciting new features like the ability to add sloped surfaces!
Stranger Things 3: The Game
Release Date: July 4, 2019
This official companion to Stranger Things Season 3 boasts "retro 16-bit art style with modern gameplay mechanics," allowing fans to play through familiar events from all three seasons of the show as one of 12 characters. But everyone's just going to play as Eleven, right?
## Fire Emblem: Three Houses
Release Date: July 26, 2019
Fire Emblem … but at Hogwarts. In Fire Emblem: Three Houses, an unnamed mercenary discovers an "unknown power within" and then uses it in a teaching position at a monastery that trains leadership from the continent's three great houses. Calling it a cross between Harry Potter and Fire Emblem feels cheap — but it also seems totally accurate.
Wolfenstein: Youngblood
Release Date: July 26, 2019
A direct sequel to 2017's critically-acclaimed Wolfenstein II: The New Colossus, Wolfenstein: Youngblood takes place 18 years later. BJ Blazkowicz has gone missing, and the players assumes the role(s) of his twin daughters as they go looking for their father. The spinoff promises to match the intense, frenzied pace of the previous game. Despite taking place so far into the future, Youngblood is not replacing Wolfenstein III.
The Legend of Zelda: Link's Awakening
Release Date: 2019
One of the greatest Zelda games of all time from the Game Boy classic era is returning. The Legend of Zelda: Link's Awakening on the Nintendo Switch is far more than a remaster or re-release — this is a total remake with dazzling contemporary graphics.
Pokémon Sword and Pokémon Shield
Release Date: 2019
Let's face it: Pokémon: Let's Go was kind of a Let Down, especially because several core gameplay elements tried to mash together Pokémon Go with the franchise's more traditional story and experiences. It perhaps didn't help that it was a remake of Yellow.
Pokémon Sword and Shield, however, will introduce brand-new Pokémon in a new region of the world. While it probably won't offer anything too extensive in terms of innovation for the franchise, it'll be the first totally new game since Sun and Moon in 2016. (We're not really counting Ultra Sun and Ultra Moon as core entries.)