Why I Bought Generic Viagra on the Internet With Bitcoin
It's easy to buy sildenafil on the internet, but should it be?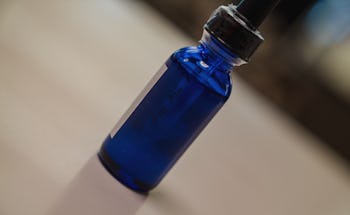 Inverse
None of my coworkers offered to help, but it was a weird request: Could anyone loan me some bitcoin to buy erectile dysfunction drugs?
I promised it was for work, but I'm not sure if they believed me. Deciding I'd need to go it alone, I downloaded Coinbase, bought a small fraction of a bitcoin, and waited for the transaction to go through. I could only pay with bitcoin or an electronic check, which is surprisingly common among the websites that sell these drugs without a prescription.
Two eye-catching stories had led me down this path. In the past year, two separate medical case studies have been published that involve strange, adverse reactions to erectile dysfunction drugs. In both case studies, male patients told doctors they had taken excessively large doses of the erectile dysfunction drug sildenafil citrate.
Sildenafil was first released in 1998 by Pfizer under the brand name Viagra. The "little blue pill" is now widely available as a generic, unbranded drug. This has opened up the market for startups like hims that prescribe and sell erectile dysfunction drugs over the internet, as well as other online sellers that can sell large quantities of non-pharmaceutical-grade sildenafil — as long as it's labeled for "research purposes only." Unfortunately, as you'll read below, that research-only rule may not mean much to these websites' customers, and patient reports show what can happen when people inevitably consume too much of these drugs.
In one case, a man experienced red-tinted vision that lasted for several months. One of the doctors who covered his case, Richard Rosen, M.D., an ophthalmologist at Mount Sinai Hospital in New York City, tells Inverse that the man's vision has improved somewhat after over a year.
"But last I heard he still complains of some persistent color disturbance," Rosen told me.
In another case study, a man experienced extreme light sensitivity and night blindness — and he saw spots. And while his photosensitivity and night-blindness improved after a couple months, he kept seeing spots. That's when he went to the doctor to be examined. He hasn't shown up for follow-up appointments, though, so doctors don't know how he's doing now.
To get Viagra or its generic version in the United States, a prescription from a doctor is required. Even startups like hims require a prescription even if it's just written after a brief consultation that happens over direct message. In both of the case studies, though, the patients had taken neither the brand name nor a generic from a pharmacy. Instead, they'd purchased unapproved drugs over the internet. And in both case studies, the patients experienced vision problems, some of which their doctors suspect could be permanent.
I wanted to find out why a drug that's meant to affect your sex life seems to have profound effects on a region of the body that's far away from the part it's supposed to affect. I also wanted to know why it seems to keep happening. So the natural first step, of course, was to find out just how hard it is to buy erectile dysfunction drugs.
The answer, it turns out, is simple: It's not very hard at all.
All I had to do was Google "liquid sildenafil," and several sites populated the first page of search results for my perusal. I chose one at random from the first page: PeptidePros.net. I then selected a 30-milliliter bottle of sildenafil, which cost $33.16 with shipping (or 0.00873303 BTC at the exchange rate on the day I bought it). All in all, the transaction took about five minutes.
It took about five minutes to get a bottle of liquid, generic Viagra. The picture of the bottle on the page clearly had "Not for Human Consumption" on the label. Peptide Pros markets itself in an animated video as the "#1 online marketplace for high quality peptides" — short chains of amino acids that form the building blocks of proteins — for researchers. But there's nothing to stop individuals from buying a bottle of peptides or any other chemicals sold on the site for their own use.
This whole experience began as an exercise in satisfying my own curiosity about those two bizarre medical cases. The more I learned about it, though, the more curious I became.
As Inverse reported in 2015, studies in recent years suggest that erectile dysfunction is increasingly common among men younger than 40. I'm 31, and while I'd never really thought about trying these drugs, reading up on them made me realize that they weren't only for people my dad's age. I'm not the typical patient, but I have a few friends who have taken different erectile dysfunction drugs out of curiosity.
Why not give it a go? What could go wrong?
To answer that question, it's important to know how this drug works in the first place. This part is about to get kind of hairy with the biology, but trust me, it will be over soon.
Sildenafil works by inhibiting an enzyme called cGMP-specific phosphodiesterase type 5. This enzyme, PDE5 for short, breaks down cyclic guanosine monophosphate in the bloodstream. cGMP is responsible for relaxing the smooth muscles in the blood vessels that feed blood to the corpus cavernosum, the spongy tissue in the penis that becomes engorged with blood during an erection. When cGMP shows up, these relaxed blood vessels let more blood into the corpus cavernosum. This is how the penis becomes erect. By inhibiting PDE5, sildenafil keeps cGMP from breaking down, meaning that more of it is available to relax the blood vessels and promote an erection. But that doesn't mean that sildenafil instantly causes an erection.
For cGMP to be released in the first place, the enzyme called guanylate cyclase has to be activated by nitric oxide, which is released by the blood vessels in the penis during sexual arousal. So the long and the short of it is that nitric oxide must be released to initiate the series of chemical events that result in an erection, meaning that sildenafil only works during sexual arousal.
Okay, we made it! Now that we're through with the how of sildenafil, let's talk about the juicy bit: what can go wrong.
Sildenafil has a few common side effects, including headaches, heartburn, and vision changes. But vision changes typically only last as long as the drug is in a patient's system, and they usually involved blue-tinted vision. A 2002 study in Progress in Eye and Retinal Research reported that after four years of Viagra being on the market, there were no signs of long-term eye problems despite this occasional side effect.
In the years since, multiple case studies, including a 2012 case report about a man who saw spots after taking 1,500 mg of sildenafil he'd purchased online, as well as a 2017 report of a man whose vision was blurry for months after taking 750 mg of sildenafil, suggest that very high doses of sildenafil can cause a range of eye problems that can persist for long periods of time.
From all of these case studies, a pattern has emerged. It seems that sildenafil, in high enough doses, can be toxic to the human retina, the part of the eye that collects incoming light.
The reason for this issue actually seems to be a strange coincidence. In addition to affecting PDE5, sildenafil — along with other erectile dysfunction drugs like tadalafil (Cialis) and vardenafil (Levitra) — it also affects PDE6. PDE6, a protein, is only found in the eye's rod and cone photoreceptors.
So, even though the eyes are pretty far away from the penis, once sildenafil enters the bloodstream, it can inhibit this protein in the eyes, making it hard for the cells in the eye to translate incoming light into visual signals.
In repeated case studies of patients for whom PDE5 inhibitors messed with their vision, scientists still aren't totally sure of the mechanism, though they're sure something is happening.
Rosen, the doctor who worked with the man who had red-tinted vision for months after taking sildenafil, says red is only one color people might see.
"There is a change in color perception where maybe people get green vision, pink vision, yellow vision."
"Most patients would have this cyanopsia — or blue vision — which people are aware of," says Rosen. "But in the ophthalmic literature, there is a change in color perception where maybe people get green vision, pink vision, yellow vision."
In other words, yes, we know that sildenafil can change what colors we're seeing, but we don't know a whole lot more than that.
Rosen suspects there could be a genetic component to the PDE6 interaction. For instance, if someone only has one good gene that encodes the protein and isn't producing the full amount, they could be especially susceptible to the visual side effects of sildenafil. That's just a hypothesis for now, and it doesn't necessarily explain the color differences among patients. But as whole genome sequencing gets cheaper, Rosen hopes people will be able to easily find out whether they're at higher risk for this complication.
In the case of Rosen's patient who saw red, he didn't know how much sildenafil he'd taken, but Rosen estimates that it could've easily been around 600 mg. The man who saw spots had drunk a whole bottle of liquid containing 750 mg of sildenafil. A normal dose of sildenafil ranges between 25 and 100 mg, which is why I ordered a bottle that contained 25mg per milliliter of liquid — approximately one dropper full.
When my package from Peptide Pros arrived, I opened it and was immediately taken aback. I saw that the liquid was not a solution, as I'd assumed it would be, but rather a suspension. This was unsettling, and it definitely dialed back my enthusiasm for a Sasha Shulgin-style self-experimentation session.
After all, one does not usually expect to have to shake a medication to mix it up. The labeling on the side of the bottle clarified the situation a bit, though:
Not For Human Consumption
For Laboratory Research Only
So, it didn't matter that the ingredients were poorly mixed — because I'm not supposed to consume it anyway. Huh.
This detail factors into at least one of the cases. It could help explain why gray market sildenafil almost made Rosen's patient go blind.
"It was a suspension, and the way it was described, apparently there was quite a bit of material that had settled to the bottom, and he just added some liquid — probably water — shook it up, and probably took a much higher dose," Rosen says of his team's patient.
"If you have a 50 or 60 milliliter bottle like this was, and you take 10 [milliliters], you could easily create a fairly potent solution that's somewhere around 500, 600, or more milligrams of this drug, which is beyond what's considered the safe and effective dose of this drug."
At this point, I started to worry: Did the dropper of liquid from my bottle have a ton of the drug? Or none at all? Sure, if you shake it up, the solids will more or less look like they're evenly distributed, but before too long, they will settle out to the bottom again. This quality is fine for salad dressing, but not for a drug whose doses are measured in milligrams.
So I reached out to PeptidePros to ask about what I thought was an obvious safety issue — as well as the fact that people might buy this drug to consume, like the patient in the case study, not just for research.
The response from Peptide Pros doesn't clarify much:
We appreciate the inquiry, however it would be illegal for us to provide any information regarding administering any of our peptides. We sell them in compliance with local laws that state they MUST be sold for research purposes only. Providing any sort of advice would be in direct contravention of this and therefore illegal. Our sincerest apologies as this is the only information we are able to provide you with.
Representatives at Peptide Pros did not reply to multiple follow-up phone messages from Inverse about the fact that, despite the company's official stance, the website appears to be well-known on social media as a good source for chemicals for consumption.
Reddit and other forums, for example, host various conversations in which people clearly describe using the products they purchased from Peptide Pros for anything from tanning to body building.
To be clear, Peptide Pros is one of several websites where people can obtain these substances without a doctor's input. It's just the one I happened to choose when I began investigating how easy it is to buy drugs without a prescription.
This "research purposes only" line has shown up repeatedly in online gray markets for drugs over the years, which is not to necessarily claim that Peptide Pros or any other research-focused online sellers operate as such. But the explanation is commonly a tactic employed by chemical sellers. It's often a facade.
Most recently, the controversial plant drug kratom has been frequently sold as "not for human consumption" to sidestep the FDA's war on the substance, though it's clear why customers are buying it.
Before that, similar labels showed up in the early 2000s with the proliferation of synthetic psychedelic drugs like 2C-B, 2C-I, and a whole galaxy of other "research chemicals" that could be bought in bulk on the internet.
As far as body-building peptides go, the tactic has produced mixed results as a legal defense.
At least in the case of Peptide Pros, a site that also sells peptides and androgen receptor modulators, all under the "research" umbrella, this line seems to be working.
The Food and Drug Administration, which approves and regulates pharmaceuticals, has warned Americans several times about illicit erectile dysfunction drugs, including those found in vape juice.
In the case of sites like Peptide Pros, where I bought my sildenafil, the FDA doesn't appear to have a public plan of what to do about the problem.
In response to questions about how the FDA approaches erectile dysfunction drugs sold on the internet without a prescription, a representative told me about several enforcement actions, including the FDA's focus on International Mail Facilities located around the country, where drugs are intercepted coming from other countries:
The FDA's presence at the International Mail Facilities (IMFs) provides a front-line defense against illegal, illicit, unapproved, counterfeit and potentially dangerous drugs entering the U.S. These potentially harmful products include unapproved drug products; counterfeit or substandard drugs; and purported dietary supplements being sold for weight loss, sexual enhancement, bodybuilding or pain relief. Many products promoted as dietary supplements contain potentially dangerous undeclared drug ingredients. When the FDA encounters shipments of drug products that appear to be unapproved, misbranded, and/or adulterated, FDA detains the products.
But Peptide Pros tells Inverse it has its warehouse in Colorado (it also has a Miami Beach mailing address), so the problem isn't just generic drugs coming from outside the US.
Perhaps the problem is not so much where the drugs are coming from. After all, sildenafil doesn't have to be mislabeled or contaminated to cause adverse effects. All that needs to happen is for someone to take too much.
Rosen suspects that the increasing availability of the drug, regardless of its source, could make people think it's safe to take more of it.
"As these drugs become over-the-counter and more widely available, they become easier for people to get the impression that there's very low-risk," he says.
He points to the fact that erectile dysfunction drugs have already become legal over-the-counter in the UK, and that US-based sites — like hims and Roman — enable people to consult with a doctor online and get a prescription.
Ali Nouman, a 30-year-old web developer from Pakistan, says he first went to Craigslist for sildenafil. I found him on a subreddit for ED called, appropriately enough, r/erectiledysfunction. He bought Penegra, a sildenafil formulation made by Indian drugmaker Zydus Cadila, from another Craigslist user.
"I got married four or five years ago, and I had at that time a legitimate problem, so my doctor prescribed these drugs to me," Nouman tells Inverse. Unfortunately, he couldn't fill the prescription because so-called "sexual enhancement drugs" are banned in Pakistan.
"It's a very important drug in a way, so a lot of people smuggle these drugs from India into Pakistan," he says. One Craigslist seller shorted him, sending 16 pills when he paid for 20, but it was the drug itself, not the sketchy transaction, that made him decide to stop taking it.
"I have never experienced a headache that bad."
"I have never experienced a headache that bad," he says. He also experienced blue-tinted vision, and he hasn't taken more sildenafil in quite some time.
Among young people taking ED drugs, though, physical side effects are one of the rarest reasons for stopping PDE5 inhibitors. A 2013 study published in the International Journal of Impotence Research found that the top reasons people stop taking ED drugs included a reluctance to be dependent on a drug for sexual intercourse, a spontaneous recovery of erectile function, and the high cost of the drugs. A little over 16 percent cited side effects, but that's a small minority. When adjusting for age, the side effects were the most common reason that people over 70 stopped taking their PDE5 inhibitors.
In Nouman's case, the physical side effects may have given him pause, but most of all, he was worried that he was becoming "addicted" to using it, in the sense that he got fixated on the intensity of sexual experience.
ED isn't just a biochemical issue. In some cases, people will choose to take more of the ED medication when they should probably be pursuing therapy as treatment
"They only have a certain range of efficacy in terms of what they're supposed to do, and there are more factors in erectile dysfunction than just the relaxation of these veins," he says. "There's a whole psychological thing, and people think, 'This isn't working, I'll just take more.'"
" It's not a panacea for all of their sexual problems."
He suspects that the young man in his case study who had red-tinted vision for months re-dosed like this, and he worries that the trend will worsen if erectile dysfunction drugs are sold over-the counter in the US, as some have proposed.
"Over-the-counter drugs tend to be less expensive, so people can potentially take more," he says.
"With most drugs, I've learned over the years in my medical practice, the minimum dose for whatever the effect is is usually going to give you most of the effect and the least amount of side effects," says Rosen. "I think people should be aware that it's not a panacea for all of their sexual problems. It works, to some extent, and if it's gonna work, it's gonna work at a fairly low dose."
Rosen says that some of the medical conditions that may contribute to ED in the first place can create a greater risk for complications when ED drugs are taken.
For instance, he recalls a case from 2003, in which he and his colleagues examined a patient who had taken a normal, 100-milligram dose of Viagra. The man experienced a sudden loss of vision in part of the field of one of his eyes, which Rosen's team identified as a blockage of a retinal artery. He says this is an example of a broader issue, especially for older people with heart problems.
"In people who are vasculopathic — meaning they're hypertensive, they may have elevations in their serum lipids, they may have cardiac disease, all these risk factors, which oftentimes probably play into the need for some of these drugs — there may be some risks as well."
As far as I know, I don't have any known heart problems, so I don't think I'm at any life-threatening risk from this strange bottle.
But in all this learning about sildenafil, I started wondering whether it was really worth rolling the dice on sketchy liquid Viagra. I'm not in college anymore, so the point in my life when I'd put a random chemical into my body (and there was a point) is pretty far behind me. While there may come a day when this substance becomes necessary, for now, the little bottle from Peptide Pros sits on my desk at work, its seal unbroken.