FDA Cracks Down on Vape Liquid Spiked With Erectile Dysfunction Drugs
One product reportedly produced two-day-long erections.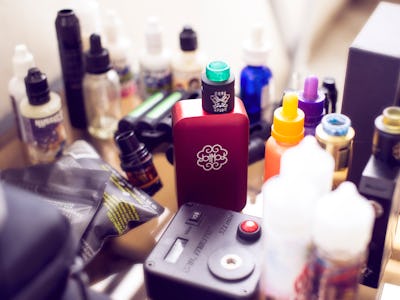 Unsplash 
The FDA is pulling out all the stops to apprehend HelloCig Electronic Technology Co., a Chinese vaping liquid company that slipped a secret ingredient or two into its products that gave people erections lasting up to two days, some outlets claim. More likely than not, this company was probably just trying to boost sales, but instead it's entered into dangerous, uncharted scientific territory.
On October 11, the FDA issued an official statement condemning Hello Cig for both misleading consumers and for tainting its products "E-Cialis HelloCig E-Liquid" and "E-Rimonabant HelloCig E-Liquid" with sildenafil, the active ingredient in Viagra, and taladafil, the active ingredient in Cialis. These drugs are both FDA approved for use in the erectile dysfunction drugs, but they definitely are not approved for medical use in the nicotine liquid sold by this company. The FDA discovered the ingredients after performing independent lab tests on the e-liquids, which are sold on the HelloCig website alongside photos of Cialis bottles and tablets.
The FDA sent a warning letter to HelloCig, giving the company 15 days to respond. It stated:
These undeclared ingredients are phosphodiesterase type-5 (PDE-5) inhibitors. These ingredients can be associated with significant safety issues and the risk of serious adverse events.
Nowhere in its statement did the FDA mention the mysterious two day-long erections that are being reported in some tabloids. That said, we don't actually know much about what happens to a person who inhales aerosolized Viagra or Cialis.
The FDA statement describes the typical way that Viagra works when it's consumed. When someone takes that famous blue pill, sildenafil citrate impacts sexual function by inhibiting PDE-5, thereby allowing nitric oxide — a molecule that relaxes muscles and is released locally when someone is sexually aroused — to stick around a bit longer. By doing this, blood flow to the penis is increased, resulting in a sustained erection.
It's not clear how the e-liquid is thought to have had such a long effect. FDA documents note that Viagra, at least in pill form, is processed by the body pretty quickly: It's supposed to be expelled from the body after four hours, and its effects should wear off long before then. Even in extreme cases, like that involving one English man who took 35 Viagra at once, high doses of the active ingredient did not cause a sustained erection. The man who took 35 Viagra told The Sun that he "had an erection for five days" but "It wasn't a permanent erection but every time I brushed against something for five days it sprang into life —and it was no use to me."
There do not, however, seem to be any studies on what happens when a person puts Viagra-laced nicotine in a vaporizer and smokes it. Doing so, in theory, allows the drug to completely avoid the liver and go straight to the bloodstream with an unspecified dose of sildefanil. As Premal Patel, Ph.D., a urologist at the University of Miami, told The Daily Mail, there are literally no studies on what might happen to someone if they were to do this.
Of course, taking an unspecified dose of any prescription drug is dangerous, whether in pill or vaporized form. Unfortunately, this happens more often than it should. In early October, scientists reported that the FDA has identified the same ingredients — sidenafil and taladafil — in hundreds of different dietary supplements and didn't sound the alarm bells the way it had for HelloCig.
The FDA will continue to chase HelloCig, and scientists will scratch their heads about the two-day-long erection purportedly caused by the e-liquid. In the meantime, it's important to keep in mind that many illegally obtained substances are tainted, and it's impossible for the FDA to police them all. Ultimately, it's on both the FDA and consumers to remain vigilant about these dangers.