Watch a New Trailer for 'The Martian' Unless You Want to See 'The Martian'
We feel like we've seen the entire movie already.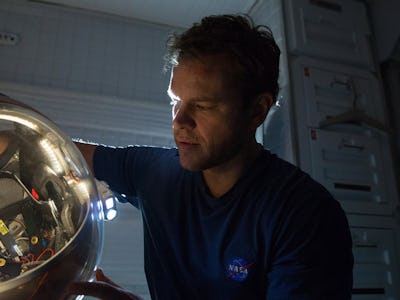 www.foxmovies.com/movies/the-martian
The latest trailer for Ridley Scott's next sci-fi tale The Martian has dropped and it shows off a good portion of what we first saw in the teaser trailer, which means it also does a good job of basically spoiling the entire movie.
That's it, you guys, no need to plop down 12 bucks to see it in theaters. The film may have been moved up from its original late-November release date, but that doesn't matter. Between the teaser and this we can all just watch the combined six-minute clips and be set.
Granted, we may be going too hard on this official trailer, but it's because the big budget Matt Damon-starring Robinson Crusoe-in-space movie has a lot to live up to. The book was wildly popular, and the director's science fiction pedigree remains sterling, notwithstanding the sinkhole-riddled plot of Prometheus. It's a bit cliche to assign Jimi Hendrix to play "All Along the Watchtower" in yet another trailer, but we can't help feeling a mite excited. The Martian hits theaters on October 2.