'Queer Eye' Host JVN Draws Criticism for Not Asking Robert Kennedy Jr. About Vaccines
Why didn't Jonathan Van Ness address the controversy?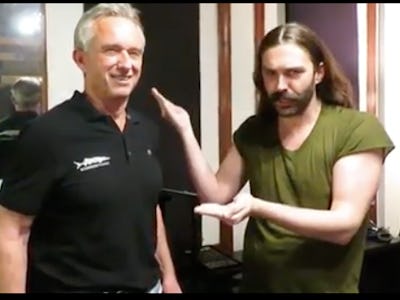 Jonathan Van Ness
Jonathan Van Ness's "Getting Curious" is a critically praised podcast with an audience that hits into the six figures. The charismatic Van Ness, most famous as a co-host of Queer Eye, interviews experts on a wide range of issues that, correspondingly, he's curious about. Nancy Pelosi has explained why votes matter while Olympian Michelle Kwan has discussed figure skating. Experts explain their expertise.
That's presumably why WaterKeeper Alliance president Robert F. Kennedy Jr. was a guest on Thursday, discussing the Clean Water Act. Van Ness and Kennedy shared an impassioned conversation about water rights, and afterward, Van Ness described Kennedy as an "amazing" and "incredible" man.
But there's an elephant in the room when Kennedy's around, and that's his notorious anti-vaccine opinions. 
On Instagram, some of Van Ness' fans questioned his inclusion on the program.
"@jvn love you and your podcast but unfortunately don't love @robertkenndyjr," commented user mcheck. "He is an outspoken voice for 'vaccine safety' but in doing so has given more fuel and fire to the dangerous and anti-vax movement."
Van Ness responded, stating: "@mcheck funny you should mention, you're going to love the vaccine episode out next week Queen!"
Meanwhile, the comments section on Van Ness's profile has become home to an ensuing debate over whether or not vaccines are safe, and why should Kennedy's opinions even matter because this episode is on clean water, and not vaccines.
A Celebrity With Influence
What Van Ness says, and importantly doesn't say, matters because he's a celebrity with influence. At no point in the discussion — especially not when the conversation turns to the power fake news has "to instill fear" — does Van Ness ask Kennedy why he thinks HPV vaccines cause depression, why he thinks dementia and Alzheimer's disease could be linked to the flu shot, and why he's led a decades-long campaign linking vaccines to autism despite the consistent fact-checking showing he's wrong.
"Celebrities have definitely been shown to have the ability to influence public opinion"
David Jackson, Ph.D. a professor at Bowling Green State University who has studied the influence of celebrity endorsements tells Inverse that "celebrities have definitely been shown to have the ability to influence public opinion."
For that influence to happen, he says three conditions have to be present. First, that person has to be a celebrity among the people they are trying to influence — that may seem obvious, but someone who watches Queer Eye is going to have a very different reaction to Van Ness than someone who does not. Second is likability, and third is that the celebrity has to be seen as credible. If you have these three factors, you can influence the public.
Valerie O'Reagan, Ph.D., a professor at California State University, Fullerton who has also researched celebrity influence, tells Inverse that what celebrities are most capable of are solidifying a person's attitudes. If someone is anti-vaccine and comes across a celebrity with anti-vaccine attitudes, that's going to reinforce those ideas. In turn, the presence of an anti-vaxxer on a celebrity-hosted program likely strengthens anti-vaxxers' opinions that they are in the right.
Kennedy has often said he is "pro-vaccine" when explaining why he doesn't trust vaccines. But it's difficult to see that as much more than a sugar-coated appeal. His constant questioning of vaccine safety, and his demand to debate the science, are in direct contradiction to what the medical experts at the World Health Organization and the Centers for Disease Control and Prevention say: Vaccines are safe, and our communities are safer when they are vaccinated.
HPV vaccines like Gardasil are demonstrably safe and effective. Potentially preventable cervical cancers, however, are an increasing health burden because the HPV vaccine is underused.
Meanwhile, the choice to not vaccinate children has caused measles cases to surge in the United States. The anti-vaccination movement, which Kennedy helped mobilize in the 2000s, is one of the top ten global threats to human health in 2019 according to the World Health Organization.
Van Ness, for his part, is famously someone who uses his platform for good. He encourages people to live honestly, with respect for themselves and for their health. And he's made a career talking about tough topics and calling out people who are dangerous to others. Like his show implies, he encourages people to ask questions about the world around them. Mine is: Why didn't he ask someone to explain dangerous rhetoric when he had the chance?
It's possible we'll find out when the next episode on vaccines is released. Inverse has reached out to his representatives and Ear Wolf, the podcasting network that hosts his show, and will update this post accordingly.