New 'Star Wars: Episode 9' "Poster Leak" Shows the Knights of Ren and Zorri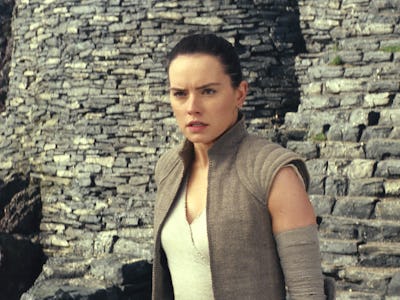 Lucasfilm
A recently leaked Star Wars: Episode IX poster offers our first look at new characters in the final entry of the Skywalker saga, along with costume changes for several returning heroes. Most noteworthy are the debut of Keri Russell's Zorri and seven Knights of Ren, but also Naomi Ackie's role as Lando Calrissian's daughter.
On Wednesday morning, the supposed poster for Star Wars: Episode IX was "discovered" and published by geek news blog, The Geekiverse. It was quickly reshared on Reddit where it went viral, and within minutes, Making Star Wars published an article with further details and images of individual characters. Inverse has not independently verified the legitimacy of the poster, but leaks like these are increasingly common ahead of major movies like Episode IX.
Update, 3/28/19: Here's how the poster caused such a stir online.
Rey takes up the largest amount of space in the alleged Episode IX poster, brandishing her repaired blue lightsaber and wearing an outfit that's predominantly white, reminiscent of Luke Skywalker's A New Hope look.
To her left, on the right side of the poster, is what looks like Naomi Ackie as Jannah.
You can see the poster here, on reddit.com/r/starwars. It's arguably the biggest Star Wars story of the day for fans, and the poster has generated 2,000 comments on Reddit.
Just under Jannah is a helmeted character we can only assume is Keri Russell's Zorri. In a podcast discussing various rumors and spoilers, it was said that "Keri Russell's outfit is rose gold, extremely fancy like a Stormtrooper but with the armor split into triangles on a purple suit. Her helmet has the shape of an Olympic cycling helmet." Based on that description, the purple character sure seems like her.
There's also obviously Kylo Ren wearing a new cracked helmet and a ton of bloodred Stormtroopers at the bottom who haven't been featured in previous films.
On the left side of the poster, we also see some very distinct-looking figures dressed like Kylo Ren. These are undoubtedly the Knights of Ren, previously revealed in a flashback scene from The Force Awakens.
Is the Force strong with this Star Wars: Episode IX poster? Probably not. It's very grainy. Not only does it look unfinished and unpolished, but it remains unconfirmed by any official sources even if Making Star Wars has a fairly good track record (see here, here, and here). But because it seemingly confirms a number of other leaks involving these character designs, it seems like the designs themselves are real, meaning this is probably just a low-quality mock-up.
If the poster is "real" in any sense, then it will likely just be a commercial poster sold at a retailer like Target and not any kind of official theatrical poster hung in theaters, or perhaps it was intended for internal promotion and not intended for wider distribution.
It's enough to get us very excited, but we're bound to see something much better than this when Star Wars Celebration happens in April.
This article has been updated.
Star Wars: Episode IX will be released in theaters December 20, 2019.