The Star Wars "Leaked Poster" Story Shows What Happens When Fans Take Control
It's the biggest non-story story of the year for Star Wars.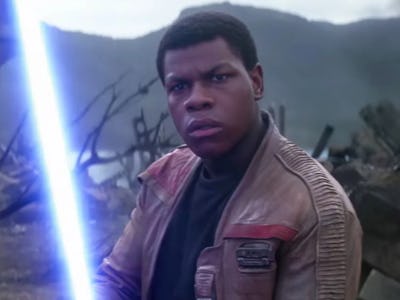 Lucasfilm
On Wednesday, an alleged poster for Star Wars: Episode IX leaked online, showing a seemingly unfinished movie poster, which came complete with various visual spoilers for the upcoming film. It spread across social media and was reported on by several entertainment news sites, despite efforts to clamp down on the leak by Disney. It's the latest example of how the creators and marketers of a beloved entertainment franchise, of which there are an increasing number on screens of all sizes, can see an official narrative slip from their control by fans who also claim ownership over those popular stories.
What started as a blog post on a little-known website quickly become the biggest Star Wars news of the day, the month, and possibly even the year, racking up thousands of comments on Reddit, countless articles analyzing every little detail, and even more tweets.
While the alleged Star Wars poster went viral on Reddit, briefly dominating both the r/Movies and r/StarWars subreddits, it first appeared on a much smaller outlet, an online news site called TheGeekiverse, which published the image just before 8 a.m. Eastern on Wednesday. In the article, Geekiverse editor-in-chief Josiah LeRoy writes that he'd "discovered" the promotional image. Via e-mail he clarifies that it came directly from a source. "I cannot talk about the source or how that went," he told me.
LeRoy also promoted the leak using the Reddit handle u/MrJekPorkins, but it only took off after the image was re-shared on Reddit without attribution. On the Star Wars subreddit, a post titled "Here's the leaked poster for Episode IX that got removed from Twitter" currently has more than27,000 upvotes and almost 5,000 comments.
It's unclear which "removed" tweet that redditor was referring to, but even if a few early Twitter posts were squashed, there's still plenty of evidence left on the social media site.
Perhaps most notably, Massachusetts congressional candidate Brianna Wu excitedly tweeted the image, specifically calling out C-3PO appearance while holding a giant bowcaster weapon (a detail others have pointed to as proof the entire leak is fake).
Meanwhile, even Mark Hamill (Luke Skywalker himself, who's mysteriously missing from this poster despite confirmation that he'll be in Episode IX) responded to a fan on Twitter, calling the alleged leak little more than fan art.
"I'm pretty sure that's just the (wonderful) work of a passionate fan," Hamill commented.
John Boyega (Finn in Star Wars) also responded to a tweet reacting to the pants he's wearing in a second leaked image from Geekiverse without necessarily confirming whether these images are real or not.
On Wednesday afternoon, The A.V. Club published a news report claiming to confirm that the leaked poster for Star Wars: Episode IX was real. However, the article was subsequently removed from A.V. Club's website at Disney's request. (Disney also contacted Inverse about our initial story covering the image, and we removed the image from our website in response.)
All of which is to say that we're still not sure exactly what to make of this "leaked poster" for Star Wars: Episode IX.
Various attempts to remove it from the internet hint at some legitimacy, but it's also possible we could be looking at a very early mockup — or even something created by a retail partner based on initial information shared by Disney. Some writers have speculated that the image in question could end up on towels and lunchboxes, rather than official movie posters.
With Star Wars Celebration, the long-running officially sanctioned fan convention that's in Chicago this year, just a few weeks away, it's only a matter of time until we got an official look at Episode IX.
But it's no surprise one of the biggest fandoms on Earth latched onto this leak and refused to let go — and given the response it received, it probably won't be the last Star Wars leak we see before the movie hits theaters later this year.
Star Wars: Episode IX is scheduled to premiere on December 20, 2019.*