Apple March 25 Preview: Streaming Shows, Gaming, and News Services Expected
Monday could mark a new beginning for the iPhone-maker.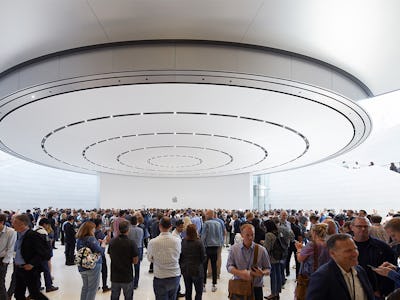 Apple
All eyes are on Apple as it gears up for its most important media event in recent memory. On Monday, the company will finally lay out the details about a series of new subscription services it hopes will revitalize the company's business and make it less dependent on growing iPhone sales. At center stage will be the new streaming service, though announcements and updates about a new news product, credit card, and possibly a subscription gaming service are also expected to be on the agenda.
The launch will go down at the Steve Jobs Theater in Cupertino, California, on Monday beginning at 1 p.m. Eastern. The latest rumor to gain traction? Apple may also introduce a gaming subscription service first reported by Cheddar back in January, according to a more recent report by Bloomberg's Mark Gurman.
It also looks increasingly likely that Apple's subscription video service will come with HBO and Showtime, and start at $9.99 per month, the Wall Street Journal reported on Sunday. We'll know a lot more in a matter of just a few hours.
Apple March 25 Event: Streaming Service Rumors
Apple has long been rumored to be in the process of putting together a Netflix-like streaming service, and after sending out its "show time" invitation to media correspondents and analysts, the streaming service focus has been all but confirmed. Leaks suggest Apple will have an impressive roster of shows to tease, but other details — for example the price, release date, or what partner channels may come included — have been scarce.
The streaming service will initially function mostly like middleware for other video subscription services, reported Recode's Peter Kafka. He writes that Apple will primarily advertise other services and take a cut of the transaction while offering its original content for top dollar. This conflicted somewhat with a previous report from CNBC, which held that Apple's original content will come free with certain Apple hardware products.
One thing we know for sure? Even if it is a middleman service, Apple's streaming product will not include Netflix or Hulu, at least for now. Instead, it will offer a series of premium bundles, similar to how Amazon Prime video consumers can pay extra to access HBO.
Apple March 25 Event: News Service Rumors
The streaming service will also appear alongside a premium news service. The expected upgrade to the Apple News app will give users access to a number of publications typically behind paywalls through a single subscription. (To lay the groundwork for this transformation, Apple acquired the magazine bundler Texture last year.) But according to some recent reports, this may be one of the rockier launches Apple has planned.
The main issue: Some of the biggest news publications are hesitant. While the New York Times reported that the Wall Street Journal will be available on the service, several other key publishers, including The Times and The Washington Post, have opted out.
The CEO of The New York Times Company, Mark Thompson, even went so far as to discourage publications from joining Apple publicly, telling Reuters it was concerned about having the reputation of its journalism watered down by being alongside too many other publications. He called the Apple News product a "Magimix (blender) with everyone else's journalism."
Even without some of the big newspapers, Apple's subscription service might still be a pretty good deal. Apple's news product is expected to cost about $10 a month, which is on par with many subscriptions for a single publication nowadays. A WSJ report suggested that publishers were offered a 50 percent cut on subscription fees, which could be what kept a few of them from opting out.
Apple March 25 Event: Credit Card Rumors
Finally, Apple is reportedly joining forces with Goldman Sachs to launch a credit card that is expected to come with a rewards program and some iPhone financial tracking features. Bloomberg reported Friday that Goldman executive officer, David Solomon, is expected to attend the event, which strongly suggests the partnership will be on the agenda.
Both companies are eager to crack the fintech industry. Goldman launched a consumer lending business called Marcus in late 2016, the same year Apple began quietly building up Apple Pay. Neither is a huge player yet. However, this joint venture could be what gets them there, Brian Karimzad, a founder of the personal finance site MagnifyMoney, previously told Inverse.
"This is a mainstream play for prime consumers or about half or more of the American adult population," he said. "Goldman has been trying to get more mainstream folks on to a yet-to-be-created investment management platform, and the rewards here are a way to start building a relationship."
It's still unclear exactly what the perks and rewards could look like. But there may be some reason to be skeptical, as the WSJ previously reported that neither company is "eager" to leap into the credit card perks war. Apple's previous credit card perk program offers users a $25 Apple store gift card for every 2,500 points, which could require people to spend a couple thousand of dollars to get any benefits at all.
Apple Subscription Gaming Service
Hot on the heels of Google's Stadia announcement, Apple is also said to be preparing a new game subscription service whose existence was first reported by Cheddar in January.
It's not clear yet how much airtime the gaming subscription will get. Cheddar's report indicated that Apple's talks with gaming publishers kicked off during the second half of last year. Not a lot is known about the service, yet, but it is said to focus on paid games, as opposed to the freemium model that not dominates mobile gaming with titles like Fortnite. 
Apple March 25 Event: How and When to Watch the Livestream
Apple's next product launch will kick off at 1 p.m. Eastern on March 25. As usual, it will be presented on Apple's special events page in a livestream which usually begins a few minutes before the curtain call.
For Apple fans outside of the East Coast of the United States, the stream will begin:
10 a.m. Pacific
5 p.m. British
6 p.m. Central European
1 a.m. on Tuesday in China
2 a.m. on Tuesday in Japan
4 a.m. on Wednesday in Australia
Apple's site states that its livestreams are best enjoyed on:
An iPhone, iPad, or iPod touch running Safari on iOS 10 or later.
A Mac running Safari on macOS Sierra 10.12 or later.
A PC running Windows 10 and Microsoft Edge.
A second-generation or later Apple TV, streaming over AirPlay, running the latest Apple TV software or tvOS.
Chrome or Firefox browsers may work, as long as they're set up to support MSE, H.264, and AAC.