On International Women's Day, Google Celebrates NASA Pioneer Mae Jemison
"Never be limited by other people's limited imaginations."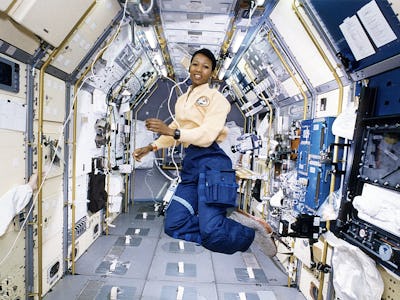 Flickr/NASA on The Commons
Friday marks International Women's Day, a public holiday acknowledged around the world. While the day means different things to different women — some use it to celebrate achievements, while others use it as a point of protest — at the heart of it is the demand for gender equality. Mae Jemison, the former NASA astronaut celebrated in a Google Doodle celebrating International Women's Day, is one individual who embodies this message.
Jemison's words of advice are lionized in the doodle alongside other words of encouragement from feminist icons like artist Frida Khalo and architect Zaha Hadid. Jemison, famously the first African-American woman to go to space, is quoted from a talk she gave in 2009 at the Annual Biomedical Research Conference for Minority Students. Her full statement reads:
Never be limited by other people's limited imaginations… If you adopt their attitudes, then the possibility won't exist because you'll have already shut it out… You can hear other people's wisdom, but you've got to re-evaluate the world for yourself.
As a physician, Peace Corps volunteer, entrepreneur, teacher, dancer, and astronaut, Jemison has certainly lived her life in protest of people's limited imaginations. Born in 1956, Jemison's interest in STEM rooted early, and she enrolled at Stanford University when she was only 16. She majored in degrees in both chemical engineering and Afro-American studies, and she went on to receive an M.D. just four years later.
Jemison worked as a medical practitioner and served for two-and-a-half years in the Peace Corps as a medical officer. When she returned to the United States in 1985, she did something incredibly difficult: She pivoted her career entirely to pursue her childhood dream of becoming an astronaut. Jemison applied to the NASA astronaut training program, was selected from a field of 2,000 individuals, and in 1992, became the first African-American woman to go to space.
On the Space Shuttle Endeavour, she participated as a mission specialist, playing a key role in the scientific investigations of mission STS-47. Jemison's life embodies the United Nation's theme for this year's International Women's Day: "Think Equal, Build Smart, and Innovate for Change." The UN believes that innovation by women for women is at the "heart of efforts to achieve gender equality" — a message that's echoed in both Jemison's words and in her actions.
In the 2018 interview with Inverse below, she explains that she's always described the Apollo 11 mission as the time we got the "first human on the moon." While Neil Armstrong may have stepped first, it took women and men to get him there. To date, 59 women from around the world have flown in space, all of them launched by the work of the pioneering women who came before them.