Neo-futuristic Architect Zaha Hadid's 10 Most Brilliant Designs
The late Hadid believed "in the idea of the future."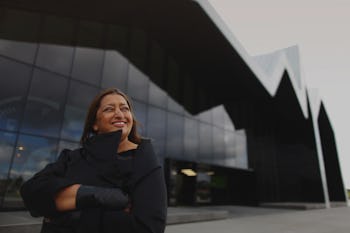 Jeff J Mitchell / Getty Images
Today, we lost a future-utopia visionary. The neo-futuristic architect Zaha Hadid died at age 65 after a heart attack on Thursday. Her official website, which is currently offline, stated that Hadid was being treated for bronchitis in a hospital in Miami, Florida, at the time of the attack.
The Iraqi-British architect's designs have been described as "famously extravagant." Hadid's signature parametric architectural style evoked abstract structures out of a futuristic metropolis. She was known for incorporating shapes and geometries in different ways. Some of her most famous projects include the London Olympic Aquatic Center, the Wangjing SOHO skyscraper in Beijing, and the Maxxi Museum in Rome.
Over her 30 years of experimentation and research in urban architecture and design, Hadid has received many accolades, including being the first woman to ever win the prestigious Pritzker Architecture Prize in 2004. This year, Hadid also became the first woman to win the Royal Institute of British Architects gold medal, which is approved by the Queen.
Hadid was fearless with her words and was relentless in her fight for women in an ever male-dominated architecture world. In her acceptance speech for the Royal Gold Medal, Hadid said:
"We now see more established female architects all the time. That doesn't mean it's easy. Sometimes the challenges are immense. There has been tremendous change over the recent years and we will continue this progress."
In honor of Hadid's work, here are images of 10 of her most innovative works.