Elon Musk's 'Stankmemes.com' Website Contains a Hidden Message
Musk continues his venture into 'meme city.'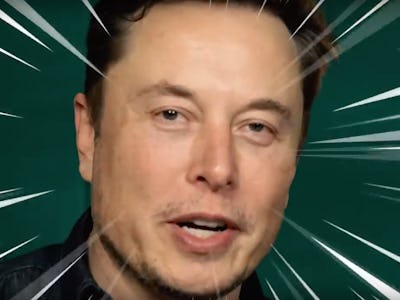 PewDiePie/YouTube
Elon Musk's meme-filled escapades are taking off. The tech entrepreneur, who bought the website "stankmemes.com" at the start of this month, drew attention over the weekend to an updated version of the site that currently shows its first meme. The bizarre image shows a chicken perched on an ax with the caption "peace was never an option."
Although the website seems simple enough, eagle-eyed fans spotted something lurking in the site's HTML source code. In the second line, the developer has left a comment reading "You're reading html comments on stankmemes.com!? Haha." Musk has been known for similar tongue-in-cheek experiments before: in July 2017, he registered "X.com," reclaiming the domain of the online banking platform he co-founded in 1999. The website, which Musk described as "a little verbose," simply contained a single letter "x" in its source code. When the user tried accessing another page, the site displayed a "y" in lieu of a "page not found" error.
See more: Musk Reads: Elon Musk's Electric Plane Idea Gets Liftoff
It's been a meme-laden month for Musk. Beyond Stankmemes, Musk appeared on Meme Review with Rick and Morty co-creator Justin Roiland. The series is a regular feature on Felix "PewDiePie" Kjellberg's YouTube channel, and last week's episode saw Musk and Roiland reviewing memes around Bernie Sanders, Madagascar and Post Malone to PewDiePie's 86 million YouTube subscribers. In classic Musk fashion, the episode ended with a meme of a deer lying against the floor of a swimming pool with the caption "why is my dolphin not working": Musk's uproarious laughter, coupled with Stankmemes' debut, suggests he is a fan of animal-themed memes.
Musk is a big fan of internet culture, using his Twitter page to communicate with his 24 million followers about his thoughts on the future of humanity, artificial intelligence, and flamethrower ideas. In October 2017, he first met Roiland after using his social media to express adoration for Rick and Morty. After a long social media campaign from Joe Rogan fans, Musk last year appeared on The Joe Rogan Experience, a podcast with nearly five million YouTube subscribers, to discuss cybernetic A.I. collectives.
It's unclear what Musk plans to use his new meme website for, but his previous social media postings have led to real product ideas. Jokes that started out on social media, for instance, have reared their heads as Tesla easter eggs and Spaceballs-inspired The Boring Company products.
Musk's meme appearances are already proving a hit. One viral meme over the weekend joked that Musk will bring his love of the deer meme to Tesla's next generation of cars.