Apple's First Big Product Launch in 2019 Might Not Feature Any New Hardware
Not exactly what everyone was expecting.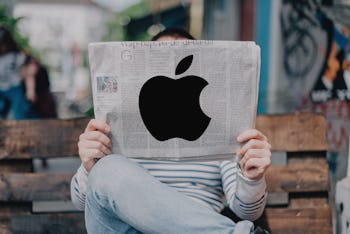 Danny Paez
A date has reportedly been set for Apple's first product launch of the year. But in a bit of a twist, it won't feature iPads like last year. In fact, absolutely no hardware is expected. Instead Apple is expected to use the occasion to launch a Netflix-like subscription service for news.
The unveiling will take place on March 25 at the Steve Jobs Theater in Apple's Cupertino headquarters, according to a report published Tuesday by BuzzFeed News. Conversations between Apple and major news organizations have also leaked, which also makes it seem like Apple may be in the final stages of readying a product. But it's still something of a surprise, and would be one of the first Apple launches in recent memory devoted entirely to an offering from its services business.
It's anticipated to cost around $10 per month and give subscribers access to an unlimited amount of articles and videos published by participating publications. But there has been a snag: The proposed business model has reportedly received some pushback from a couple of heavy hitting publishers.
Apple wants to keep roughly half of the subscription revenue it makes from the service and divvy up the rest of the money among the publishers depending on how much time users spend reading them, according the The Wall Street Journal. The WSJ report states that both The New York Times and Washington Post have not agreed to Apple's terms as of February 12. That said, the WSJ cited an anonymous source from the business side of the paper saying that newspaper's recent discussions with Apple have been "productive."
These three publishers already sell a certain number of news articles to Apple News that users can access for free. Once this service begins, they will continue to keep all of the ad revenue earned from advertisements in the served articles, but will only keep 70 percent of the money made from ads in all other content. Apple might also play hardball with subscriber data, which publishers would like to be able to continue trying to monetize on their own.
The WSJ reported that the the tech company might chose to withhold credit-card information, email, and the addresses of new subscribers. That kind of data is vital for news organizations hoping build out their subscriber base, up-sell users on new products, and personalize their content offerings.
Apple noted during its most recent earnings call that iPhone sales have dipped while its revenue for subscription services has ballooned. It reported more than 360 million paid subscribers across platforms and software products like Apple Music and iCloud. A subscription news service could be the first step in a larger plan to lean into a sector that has seen monstrous growth.
The Cupertino-based company has also been widely rumored to be preparing a TV-streaming service featuring original content and third-party programing. There have been a plethora of reports about Apple discussing deals with studios and directors.
So expect to hear a lot more about new paid subscription services alongside the occasional hardware update. This could be the year when Apple's product strategy drastically changes.