'Deadpool' Director Has "Adult" Animated Anthology Series Coming to Netflix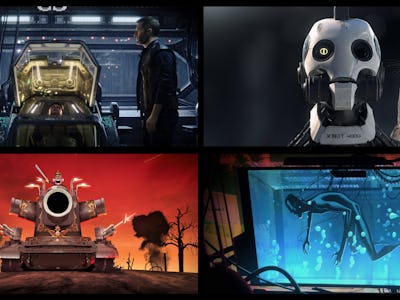 Netflix
Netflix just announced a new project that checks off pretty much every box you can think of: A sci-fi/fantasy animated anthology series "for adults" from David Fincher (Fight Club) and original Deadpool director Tim Miller. Yup, this definitely sounds like a Netflix show tailor-made for us.
On Monday, Netflix revealed Love, Death, and Robots, a new animated series made up of 18 shorts, each 5-15 minutes in length, that span all kinds of genres and animation styles. The series is in development by Fincher and Miller, along with executive producers Jennifer Miller and Josh Donen who are working with "world class animation creators" to bring the series to life.
The series, which Netflix teases is "NSFM" ("Not safe for mainstream"), is aimed at an adult audience. It won't have a uniform animation style, but a diverse aesthetic ranging from flat 2D to photorealistic 3D. Some of the teaser pictures of the show include a man on the brink of suicide, cyberpunk-inspired apocalypses, and what can only be described as a cartoon Hitler surrounded by nude women. (There's probably some context we're missing.)
In a statement, Miller says Love, Death, and Robots is inspired by the science-fiction movies, comic books, and magazines that were once apart of the geek "fringe culture" but have now eclipsed the mainstream.
"Midnight movies, comics, books and magazines of fantastic fiction have inspired me for decades, but they were relegated to the fringe culture of geeks and nerds of which I was a part," Miller said. "I'm so fucking excited that the creative landscape has finally changed enough for adult-themed animation to become part of a larger cultural conversation."
You can see the show's teaser images below.
There is no release date yet for Love, Death, and Robots.