David Fincher Directing 'World War Z' Would Be a Landmark Change 
The director is being personally courted by star Brad Pitt for the zombie sequel, which could happen.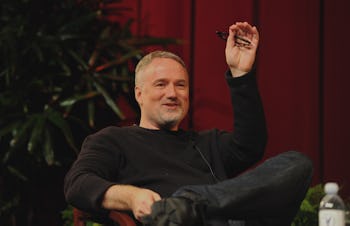 Getty Images / Alberto E. Rodriguez
Production on the 2013 adaptation of author Max Brooks's World War Z wasn't smooth. Star Brad Pitt reportedly hated director Marc Forster, the film's budget ballooned along with the production schedule, the film's entire original third act was scrapped and rewritten, and the release date fluctuated. But, for all the on-set strife, it turned out to be a huge hit, prompting a sequel – which, unfortunately, is following in the super-fast zombie footsteps of the original. This time, the drama is all in who will end up directing.
Forster not-so-amicably split for the sequel, and his replacement was announced in December 2013. The Impossible and Orphan director Juan Antonio Bayona spent the next two years developing the movie before exiting in January. Bayona is now attached to direct a sequel to mega-hit Jurassic World, which caused Pitt, who is also the producer of World War Z 2, to call in some favors. Variety is reporting he now wants David Fincher to direct the zombie follow-up.
Variety says Fincher and Pitt met and the talks were "initially lukewarm" before negotiations progressed, and movie studio Paramount Pictures reportedly isn't offering the job to anyone else.
It's a surprise to see Fincher's name thrown into the World War Z mix. Fincher has only directed one sequel of someone else's material (Alien 3) and he had such a bad experience on that movie that he's since disowned the project. He's also a guy who politely declined to direct Star Wars: The Force Awakens and dropped out of making Mission Impossible III to make Zodiac instead.
But the Pitt connection might be stronger than we think. The pair have worked together a lot — on Seven, Fight Club, and The Curious Case of Benjamin Button. An auteur of Fincher's talent could bring a ridiculous amount of credibility to what is largely seen as a throwaway blockbuster zombie movie. Plus Pitt will want to ensure that there aren't any on-set squabbles like in the original, and what better way to do that then hire one of your best collaborator friends?
Fincher, at least, dipped his toes into TV again by directing the Netflix pilot Mindhunter and recently dropped out of a new Disney adaptation of 20,000 Leagues Under the Sea with Pitt in the lead role, though we assume that didn't hurt their relationship much.
World War Z 2 is set for a June 19, 2017 release (even if it probably won't meet that deadline).