Tesla "Romance Mode" Will Debut Just Before Its Cars Become Fully Self-Driving
"After safety, our goal is to make a Tesla the most fun you could possibly have in a car."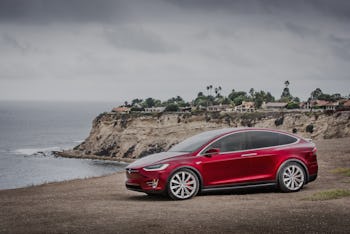 Tesla
The old chestnut of tech journalism — people will do it in self-driving cars — received new life on Thursday when Tesla CEO Elon Musk shared with his 23 million Twitter followers that an upcoming software update for Teslas will include a "romance mode."
"Super fun software Easter eggs coming to all Tesla S/3/X cars before the holidays! Romance mode, toilet humor & more video games," Musk tweeted, before adding this promise: "After safety, our goal is to make a Tesla the most fun you could possibly have in a car."
Musk told Recode journalist Kara Swisher that he expects Teslas to achieve full self-driving in 2019: "You know, I think we'll get to full self-driving next year," he said.
The joke about the physical act of love in self-driving cars was the subject of actual academic research earlier this year: A paper in the journal Annals of Tourism Research, "Autonomous vehicles and the future of urban tourism" examined just how urban tourism, a hallmark of which is prostitution, would be changed by the self-driving car.
"Sex is a part of urban tourism and commercialized sex is part of that too, so it is quite likely that autonomous vehicles will lead to prostitution, whether legal or illegal, to take place in moving autonomous vehicles in the future," study co-author Scott Cohen told NBC News.
Related video: "Tesla's Summon Feature Autonomously Parks and Backs Up Your Car"
Musk answered a few follow-ups about video games in the future of Tesla, too: No, Teslas won't get Fortnite; Nintendo won't license Mario Kart for Tesla use; it "would be cool" if Teslas featured Steam video games.
Tesla has memorably included so-called "Easter eggs" with its software updates before, and as anyone who has downloaded a software update to their phone knows, a few new features can restore the shine in a not-new piece of hardware.
There have been homages to the Rainbow Road of Super Mario Kart, and Musk has said he would like to see the Blazing Chrome video game added. There's also been a secret tribute to the team that worked on the Model 3. There's been a sketchpad. There's been a Mars Easter egg. Musk has even called for suggestions for new hidden features.
One can imagine that a "romance mode" might include dimmed lights, reclined seats, and a romantic playlist.
On a more serious topic, Musk also teased on Twitter on Thursday that Tesla would in December release a "software upgrade to rain sensing neural net." As Electrek reported in January, the beta version of those rain-sensing windshield wipers had been the most-requested Tesla feature.
Related video: Tesla Announces a Major Autopilot Milestone