Samsung Foldable Phone Launching This Week, Developer Conference Reveals
The smartphone of the future is rolling out soon.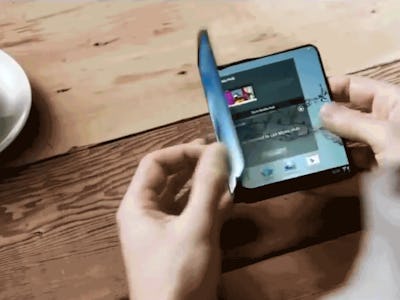 Samsung
Samsung is about to launch a foldable smartphone, if the company's developer guidance is to be believed. The firm is scheduled to hold its developer conference later this week, and documentation about sessions show Samsung may be finally about to make good on a concept it first outlined in 2013.
The company is hosting the two-day developer conference at Moscone West in San Francisco starting from Wednesday. In a session entitled "New Galaxy UX" discovered by SamMobile, the company appears to be set to help developers understand foldable display technology. The text reads:
Introducing Samsung Mobile's next UX. Explore the new Galaxy UX with Android 9.0 Pie (Beta Program) and see how a Foldable display creates a totally new experience.
This discovery comes as Reuters claims the company will deliver some details about its foldable phone. The outlet quoted an anonymous Samsung official as stating: "Unlike our flagship products, the foldable phone is a completely new concept in terms of design and user experience, which requires a different approach."
Samsung Foldable Phones: Why Now
Samsung has shared its folding phone ambitions before. A 2013 concept video shows a tech guy in a coffee shop, winning over the attention of the woman sat next to him as another guy tries to get her number:
Over the years, more reports suggested work was well underway. A June 2016 leak claimed the phone would offer a five-inch screen that flips out into an eight-inch screen. In November 2017, a new support page suggested Apple was getting ready to launch. A concept render produced in August showed how the concept could work in practice:
New leaks suggest Samsung has finally cracked it. A report last week stated that the phone will offer a 4.6-inch external display for use as a regular smartphone, with a 7.3-inch foldable internal OLED display to work as a tablet when necessary. The hinge will bring the two sides close enough together to close the gap while avoiding the two sides touching and potentially shattering.
Samsung Foldable Phone: Reddit Reactions
The news has led to a flurry of reactions from tech fans, curious to see how a folding smartphone brings something new to the table: