Samsung Galaxy F Concept Render Shows Why Foldable Phones Are the Future
The Galaxy F could launch soon.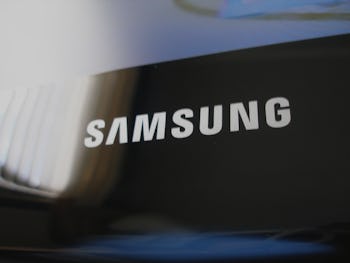 Flickr / Jami3.org
The flip phone could make a comeback. New concept renders released on Thursday show how Samsung's long-rumored "Galaxy F" foldable phone could radically transform the smartphone space, with the first major form factor change since Apple's iPhone convinced most of the industry to produce flat black slabs back in 2007.
The renders were produced for NieuweMobile by Jonas Daehnert, a freelance industrial designer from Erfurt, Germany, based on patents filed by Samsung relating to a foldable phone. The fold would enable a switch from the 18.5 by 9 ratio screen on the Galaxy S9 Plus to a 21 by 9 screen with 1,440 by 3,360 pixels. If Samsung aims for the same pixel density as the S9 series, that would make the F's screen around 7.3 inches in size. It would mean a staggering amount of screen real estate for watching films and responding to WhatsApp messages, but Daehnert notes that it's unlikely to fold flat, so it will probably have a wedge-shaped gap similar to Microsoft's Surface Book laptop.
Samsung's foldable phone idea has cropped up multiple times over the years, after releasing a concept video in 2014 of a guy in a cafe unfurling a book-like smartphone. A June 2016 report suggested the company would make two bendy-screen phones under the codename "Project Valley," one with a 5-inch screen that opens into an 8-inch screen, and another that flips more like a Motorola Razr. A November 2017 leak suggested Samsung could launch a foldable phone soon after logging a new support page. The device still haven't been announced, but it should be an impressive feat of engineering if the company can pull it off.
"To bend the Galaxy F needs a lot of mathematics," Daehnert wrote on his Twitter page. "Even when it's just a fictional 3D rendering. If Samsung is going to release a phone like this, their CGI team will have a lot of work, because the reflections of the screen are really challenging."
As for when the phone might launch? NieuweMobile suggests a January 2019 launch is not unlikely, considering rumors that Huawei is also working on a similar concept.
Samsung could also face competition from Microsoft, which has been reportedly developing a device called Andromeda.