Netflix Data Puts the Chances of a 'Daredevil' Season 4 Release in Doubt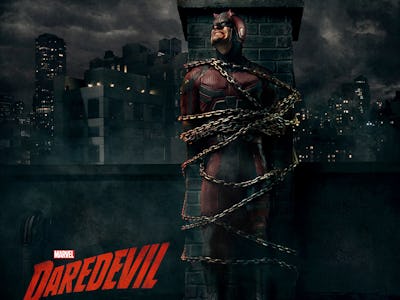 Netflix, Marvel
Jessica Jones Season 3 and Punisher Season 2 are already in production, but what's next after that? Things are looking pretty dire ever since Netflix canceled Luke Cage and Iron Fist with the power of an Infinity Gauntlet snap, and now it looks like Daredevil Season 4 might be in peril as well.
A new report from Business Insider puts some hard data behind Netflix's recent cancellations. Unfortunately, the same information that explains why Luke Cage and Iron Fist had to go may spell doom for Daredevil too.
You see, even if Netflix refuses to reveal any sort of viewership numbers for its original shows and movies, there's still one way to measure their success: social media buzz. That's what analytics firm Crimson Hexagon did, measuring the online interest around these series to show how they declined significantly over the years.
For example, the first season of Luke Cage pulled in 300,000 Twitter and Instagram posts when it launched in 2016. Season 2 made a much smaller splash with 50,000 posts earlier this year. Similarly, Iron Fist started strong with 120,000 social media posts when it debuted, but Season 2 fell to under 20,000 posts.
Daredevil also saw a drop in interested, even if it hasn't been quite as drastic. Season 1 raked in 275,000 posts in 2015, while Season 2 stayed strong with over 200,000 mentions on Twitter and Instagram. However, Season 3 only hit 75,000 posts, though Crimson Hexagon notes that this number could go up as October continues.
Still, assuming Daredevil sees a similar drop off in its third season, a Season 4 release date may be unlikely at best. And the ongoing turf war between Netflix and Disney's upcoming streaming service doesn't help things either.
For now, there's hope, but if this data is any indication we may have already seen the last of Marvel's Daredevil on Netflix.
Daredevil Season 3 is now streaming on Netflix.