'Ant-Man' Star Says Quantum Realm Is "Key" to 'Avengers 4' and Beyond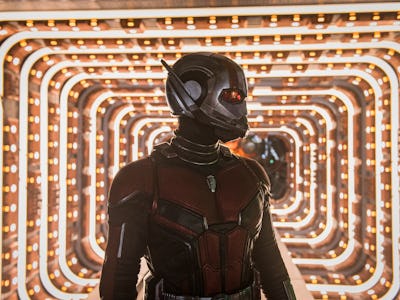 Marvel Entertainment
While Ant-Man's movies are fun heist comedies that just so happen to take place in a bigger superhero universe, the Quantum Realm introduced in both 2015's Ant-Man and 2018's Ant-Man and the Wasp will apparently be very, very important to the future of the Marvel Cinematic Universe, including Avengers 4.
In an appearance on On Air with Ryan Seacrest last Thursday, actor Michael Douglas, who plays the original Ant-Man "Hank Pym" in the Marvel franchise, told Seacrest that the Quantum Realm will be "key" to the MCU going forward.
"I mean, the Quantum Realm, that's the key. That's the key," Douglas told Seacrest. "The Quantum Realm plays an important part in all the next chapters, I think, of the Marvel films."
Seacrest, apparently lost, was lectured by Douglas: "It's a whole other world; it's a whole other language and world, the Marvel comics world … You gotta take a course in it, Ryan."
Douglas' explanation of the Quantum Realm echoes what Dr. Spiros Michalakis, a quantum physicist and staff researcher at the California Institute of Technology who acted as a science consultant for Ant-Man, told Inverse in a May 2017 interview about the Quantum Realm.
"This is exciting for the future," Michalakis said. "There are different ways that some of these ideas appear on-screen in a few years. Not just for Ant-Man, but also for Captain Marvel and all of the Marvel Cinematic Universe."
The Quantum Realm is expected to play some role in Avengers 4, out next year. I mean, Ant-Man is currently stuck floating in the realm, after Thanos snapped most of his allies out of existence. (Refer to the post-credits scene of Ant-Man and the Wasp and you'll know what I'm talking about.) But that the realm could play a more significant role, especially in regards to Captain Marvel and other future movies is quite a significant thing to anticipate.
Ant-Man and the Wasp is available now on streaming, Blu-ray, and DVD.