Elon Musk Approves Tesla Model 3 'Dog Mode' With 3 Important Features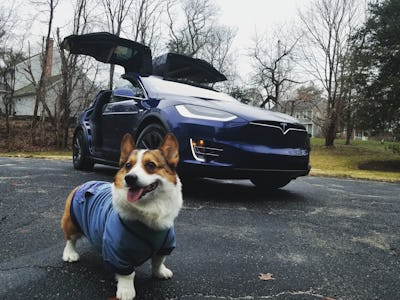 Flickr / leo.young
Elon Musk is adding a dog-themed feature to the Tesla Model 3 electric car. Rather than anything involving a new subwoofer or improved barking sensors, the CEO approved an idea over Twitter Friday that would offer a special mode for leaving a dog in the car. The mode would play music, turn on the air conditioning, and display a message on the central control display stating that the dog's owner will be right back.
The feature, suggested by owner Josh Atchley, is the latest given the virtual thumbs-up by Musk over Twitter. Statistics from PETA show that temperatures inside a car on a 78-degree day can soar to 100 degrees inside a car, and animals can die from heatstroke in just 15 minutes. The Humane Society recommends taking down details and searching for the owner, but some concerned onlookers have resorted to smashing windows to save animals. Some car owners have placed signs in the window informing people that the air conditioning is on and the dog is comfortable to avoid such incidents.
See more: How Tesla Model 3 Software Update Makes Good on a Key Elon Musk Promise
It may seem a rather unorthodox method of announcing features, but Musk has announced similar changes over Twitter before, like a mode that would open up the glovebox after a crash so users can still access documents. Tesla rolls out regular software updates to improve the car's workings, like an update in May that improved the Model 3's stopping distance at speeds of 60 mph by up to 20 feet.
Tesla has recently brought a major software update to both the Model 3 and the older Model S and Model X. Version nine of the in-car software brings a redesigned user interface to the S and X, while adding apps like a calendar to the Model 3 previously found on the older two cars. One of the biggest missing features, however, was "navigate on Autopilot," which would steer the car to the correct highway exit depending on the GPS destination. The feature is now expected to launch in a future update.
It's unclear when the "dog mode" feature will arrive, but it's just one of the many now expected to launch in a future software update. Upcoming changes include a new Netflix app and the first signs of fully autonomous driving.