What in the World Is DC's 'Elseworlds'? And Why You Should Be Hyped for It
Explaining the origins of this year's exciting Arrowverse crossover.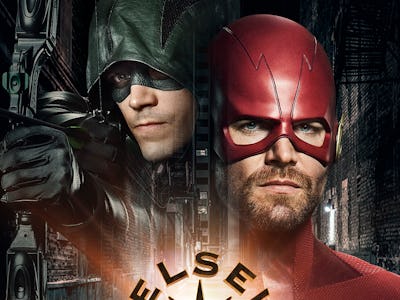 The CW
Ever since fans of The Flash saw Barry Allen hop dimensions into Earth-2, The CW's slate of DC shows have tested the narrative limits of the multiverse. Last year, the heroes of Arrow, The Flash, Supergirl, and Legends of Tomorrow united to stop an invading army of Nazis from Earth-X. Now, the Arrowverse will unite again, this time dealing with a little something called Elseworlds.
But what the heck is Elseworlds?
In real life, Elseworlds was a DC Comics imprint established in 1989 that published stories with DC characters that took place outside the core continuity. This allowed creators to go nuts with wild concepts, like, what if Superman landed in Russia as a baby (Superman: Red Son)? Or, what if Batman were a pirate (Batman: Leatherwing)? Or a vampire (the Batman & Dracula trilogy)?
Elseworlds was super fun and a win/win for both old and new readers. Hardcore fans were treated to fresh takes on familiar archetypes, while newbies didn't have to do any homework reading up on old, and before the internet hard to find, comics. They could just jump in and see DC get weird.
The Arrowverse crossover, also titled "Elseworlds," might play by different rules than its namesake. For starters, it's more than likely "Elseworlds" will be canon, so it is important to watch the other crossover events ("Flash vs. Arrow," "Heroes Join Forces," "Invasion!," etc.) as well as every season of all the shows. Luckily, it's all on Netflix, so get to binge-watching.
While specific details regarding "Elseworlds" remain under wraps, what is known is that the plot will involve Supergirl (Melissa Benoist), The Flash (Grant Gustin), and the Green Arrow (Stephen Amell) going to Gotham City (a new one, not the one on FOX) to confront a sinister player in Arkham Asylum.
Teaser materials hint that "Elseworlds" will go all-in on the multiverse's possibilities. The poster features Amell and Gustin in each other's costumes, hinting at a universe where Barry Allen looks like Ollie and Oliver Queen looks like Barry. On his Facebook page, Amell shared the poster to all 5.3 million fans, writing: "My name is Barry Allen, and I am the fastest man alive."
The crossover will also introduce major DC characters into the Arrowverse. Elizabeth Tulloch (Grimm) will play Lois Lane, and was recently seen on set with Benoist at a very, very familiar location (the Kent farm from Smallville).
The first member of the Bat-Family will also enter the Arrowverse in "Elseworlds": Kate Kane, also known as Batwoman (and played by Ruby Rose) in what will be potentially a back-door pilot to a Batwoman TV show. Meanwhile, Tyler Hoechlin, who plays Superman in a recurring role, is also rumored to star in a spin-off TV show based on his performance in "Elseworlds." Now that the future of Henry Cavill's big screen Superman remains in doubt, possibly even dead, it might be time for another series featuring the Man of Steel.
"Elseworlds" will premiere on December 9 on The CW.