7 Ways the Arrowverse Has Changed After "Crisis on Earth-X"
This superhero universe will not be the same.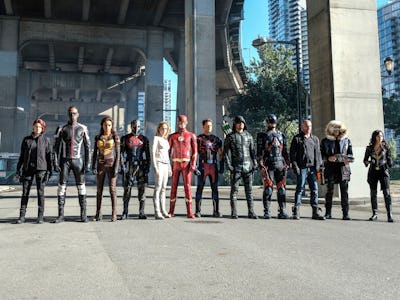 The CW
The dust has settled and all the Nazis have gone back into hiding. This week, the four-part "Crisis on Earth-X" crossover took over The CW's interconnected universe of DC superhero shows, forever changing Arrow, The Flash, Legends of Tomorrow, and Supergirl.
A year ago, our heroes fought off the Dominators, but this year, it was Nazis from the alternate Earth-X, a dystopian world where the Third Reich won World War II and continued their ruthless reign. To save their general, Overgirl (Melissa Benoist in her best Reputation Taylor Swift), the Dark Arrow (Stephen Amell) seeks the heart of another Kryptonian: Supergirl, the one who fights for truth, justice, and the American way. So Earth-X's military forces stomp into Earth-1, crashing Barry Allen and Iris Wests's wedding to kidnap Supergirl.
It began with a wedding, and sadly, it ends with a funeral. Here's all the big ways that the Arrowverse has changed in the aftermath of "Crisis on Earth-X." Warning: Spoilers ahead.
7. Barry and Oliver Are Finally Hitched
In the beginning, Barry Allen (Grant Gustin) was an awkward mess of a human being, while Oliver Queen (Stephen Amell) was a billionaire playboy hiding a vigilante double life. Neither were husband material. Yet the end of "Crisis on Earth-X" has both Barry and Oliver saying "I Do" to their beloveds, Iris West (Candice Patton) and Felicity Smoak (Emily Bett Rickards) respectively. From here on out, both Arrow and The Flash will be all about married life — at least for now.
6. Welcome to the Arrowverse, The Ray
"Crisis on Earth-X Part 3," technically an episode of The Flash, introduced a brand-new superhero to this wacky universe: The Ray, played by Russell Tovey. An energy-based superhero and lover to Earth-X's "Citizen Cold," The Ray's comic book history goes all the way back to 1940. Now, he's an integral part of the live-action Arrowverse.
The Ray will soon star in his own spin-off series, Freedom Fighters: The Ray, which will air on the CW's streaming platform CW Seed. And based on how things went in the crossover, the door is open to his return.
5. Also welcome: Citizen Cold!
Wentworth Miller's crossover appearance made you realize just how great his scene-chewing Leonard Snart was. While Snart of Earth-1 is dead, "Leo Snart" of Earth-X — who goes by the superhero name Citizen Cold — decided to "stick around" Earth-1 a little more. What business Leo Snart may have on Earth-1 is unknown for now, but it seems Wentworth Miller, who is retiring as the character, is just setting things up for his grand finale.
4. Farewell, Stein
In one of the most heartbreaking moments to the Arrowverse yet, Professor Martin Stein (Victor Garber) died trying to save the day on Earth-X. Peaceful retirement was within his grasp, but now that's been taken from him and his family, including Jax (Franz Drameh). The future of Firestorm remains a mystery, but for now, the Legends are mourning for one of their own.
3. Alex Danvers Is Moving On
You don't have to be a superhero to undergo a serious change. In Supergirl this season, Alex Danvers (Chyler Leigh) broke up with Maggie Sawyer, the hard-boiled cop who allowed Alex to explore her true sexual identity. As Alex was getting over the loss, she meets and enjoys a night with none other than Sara, aka White Canary (Caity Lotz). Now that she's rebounded, Alex is prepared to move on and find someone else, whoever that may be.
2. Zari Has a Super-Suit
OK, not a huge change, but it is pretty neat that Zari finally has a costume on Legends of Tomorrow. It's about time.
1. Was That Dawn Allen?
A leftover thread that will keep fans guessing for weeks to come was the strange appearance of a nameless waitress at Barry and Iris's wedding. Played by Jessica Parker Kennedy (90210), she had a lengthy, however awkward scene with Barry where she told him she loves weddings.
Some fans are guessing that Kennedy's character is, in fact, Dawn Allen, the daughter of Barry Allen and Iris West. In the comics, Dawn and her brother Don become the Tornado Twins, which is as goofy as it sounds, but the Arrowverse has proven time and time again that "goofy" never means off-limits. With time travel a thing, did Dawn travel back in time to see her parents get hitched?