Elon Musk Promises Tesla "Summon" Boosts Amid Work on Full Self-Driving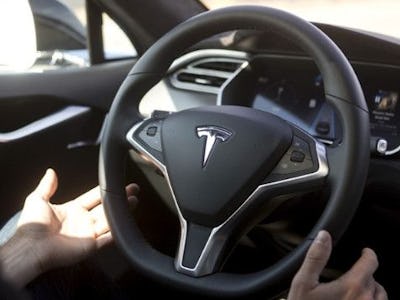 Flickr / automobileitalia
Elon Musk is planning some big improvements to "Summon." The Tesla CEO announced on Wednesday an upgrade to the car feature, which allows users to send their vehicles out to the side of the curb autonomously, which will use the cameras from the semi-autonomous Autopilot system to power the feature.
Tesla introduced "summon" in the fall of 2015, and it's offered as part of the "enhanced Autopilot" software upgrade package that costs $5,000 at time of car purchase or $6,000 thereafter. The company describes it as a feature where the car can "open your garage door, enter your garage, park itself, and shut down," while also performing the reverse action and parking maneuvers. But perhaps its most exciting prospect is Tesla's future plans: the company outlines a vision where Summon can "drive anywhere across the country to meet you, charging itself along the way. It will sync with your calendar to know exactly when to arrive."
See more: Here's How Tesla Autonomous Driving Could Lead to Self-Delivering Cars
Musk has suggested big upgrades are coming to Summon previously. In June he said that a "way more advanced" version was coming to "Hardware 2" cars. The distinction covers cars manufactured after October 2016, using cameras, sensors, ultrasonic radar, GPS, and an Nvidia Drive PX 2 computer to power Tesla's in-house driving software. In July, Tesla rolled out Summon to the Model 3, joining the S and X that already used the feature.
Summon is expected to play a key role in Tesla's autonomy plans. The company plans to release a more powerful replacement for the PX 2 to support full autonomous driving in the next few months, for those that have paid the $3,000 on top of the "enhanced Autopilot" fee to pre-order full autonomy. While it was originally scheduled to arrive by the end of 2017, Musk had to move back on these plans and admitted the technology wasn't quite there yet.
It's unclear when Musk plans to improve Summon, but it could come as part of the next major software update. Version 10 is already expected to offer Netflix support and the first signs of full coast-to-coast autonomous driving, and it could be an ideal opportunity to also make changes to Summon.
With the current feature already working like magic, it's exciting to see where Tesla will take the feature from here.