Valiant's New 'Bloodshot' Series Expands His Origins Before the Movie
In an exclusive preview, Valiant teases 'Bloodshot: Rising Spirit' will "surprise" even longtime fans.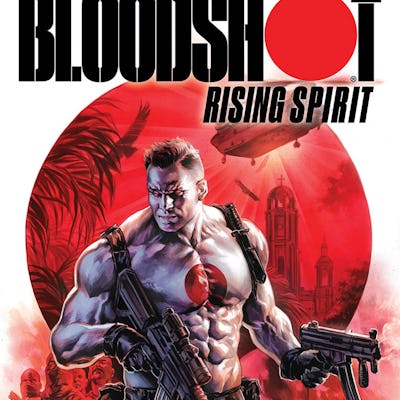 Felipe Massafera
Bloodshot, the Valiant universe's resident super soldier with nanites running through his bloodstream, is being groomed for the big screen. Vin Diesel is set to bring the character to life in Dave Wilson's Bloodshot, scheduled for 2020. But with the film two years away, Valiant is preparing fans with an "expansion" of his origins, and Inverse has an exclusive sneak preview at the first issue.
Bloodshot: Rising Spirit, a new series that debuts November 14, will detail the early days of Project Rising Spirit, the military weapons contractor that would create the living weapon known as Bloodshot. Featuring the talents of writer Kevin Grevioux (New Mutants), Linnie Nadler and Zac Thompason (Cable) and artist Ken Lashley (Black Panther), Valiant teases "the true origins" of Bloodshot.
In an email interview with Inverse, Grevioux teases "expansion" on what fans already know about Bloodshot's backstory. "This story will delve deep into the character of Bloodshot, the beginnings of his origin, and what he was like before he became who he is now," Grevioux says.
"We'll see how jacked up Bloodshot's mind actually is and how far PRS has gone to make the world's foremost killing machine. I think the revelations will surprise some folks."
Check out Inverse's exclusive preview of Bloodshot: Rising Spirit #1 below.
As one of Bloodshot's most popular characters, Grevioux describes the responsibility of actually giving him a canonical origin story as "huge" and "a bit intimidating."
"Following all of the phenomenal writers that have contributed to the character over the years can be a bit intimidating," he says. "So, for me, that in and of itself is something that I'm constantly aware of."
But Grevioux promises Bloodshot: Rising Spirit won't change so much of Bloodshot's established canon.
"I think that's a slap in the face to both the creator and to longtime fans who've been with the character since inception," he says. "However, I do think you can enhance and add layers to the history without disturbing the essence of who the character is and what makes him tick."
Thankfully, Grevioux is close friends with Bloodshot co-creator Kevin VanHook, who know works in Hollywood as a director and special effects supervisor. It seems pretty much fate Bloodshot would be among Valiant's first characters to hit the big screen.
"What Kevin did is create a rich character that so seized the comic book culture that Hollywood came calling and is actually making a big budget action flick from it," Grevioux says. "How often does that happen to comic book writers?"
Bloodshot: Rising Spirit #1 will be available on November 14.
This interview has been edited for clarity.