Final 'Spider-Man: Far From Home' Set Photos Reveal New "Superior" Suit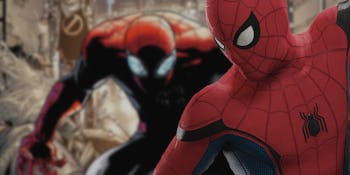 Marvel Entertainment
You may have seen leaked photos and videos from the set of Spider-Man: Far From Home, the next movie to feature Tom Holland's Spider-Man within the Marvel Cinematic Universe. But now, Holland himself is giving fans a generous look at his new costume in the movie.
On Tuesday, Holland confirmed the completion of principal photography of Spider-Man: Far From Home. In a photo shared on Instagram, Holland stands next to Zendaya's Michelle "MJ" Jones, the two looking like moody teens with their arms crossed on a New York City sidewalk. After production took place abroad in the Czech Republic and Venice, Italy, filming wrapped back in midtown Manhattan.
In the photo, Holland's Spider-Man appears in a distinctly different costume than he wore in both Spider-Man: Homecoming and Avengers: Infinity War. In Far From Home, Spidey's new costume has a darker shade of blue, almost black, whereas his previous costume was significantly brighter and vivid with eye-popping shades of red and blue.
In the comics, Spidey has adopted a red and black costume on several occasions, but it often wasn't Peter Parker behind the mask.
In Superior Spider-Man, Doc Ock switched bodies with Peter to prove himself as his "superior," donning a red and black costume. Other red and black spiders include Miles Morales, the "Ultimate" Spider-Man, and Kaine Parker, a "failed" clone of Peter Parker who turns a new leaf from villain to hero as the third Scarlet Spider.
On his Instagram story, Holland thanks fans on the final day of shooting before teasing that the move will be "awesome" and that fans will love it.
"It is here, final shot, Spider-Man: Far From Home. It's been a blast," Holland says. "It's been amazing, the movie is gonna be awesome, you're gonna love it. I just can't believe we're finished."
Spider-Man: Far From Home will be directed by Homecoming director Jon Watts and will see the return of Holland as Peter Parker, who ventures to Europe on summer vacation only to cross paths with Mysterio (Jake Gyllenhaal). Samuel L. Jackson and Cobie Smulders are also expected to return as former S.H.I.E.L.D. agents Nick Fury and Maria Hill, who were last seen turning to dust in the post-credits scene of Avengers: Infinity War.
Spider-Man: Far From Home will be released in theaters on July 5, 2019.