Here's Why Spider-Man's Stealth Suit in 'Far From Home' Looks So Familiar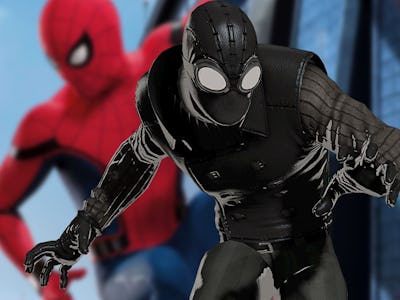 Activision, Sony Pictures
Spider-Man looks like he's taking up a new skill in his next movie: Stealth. Set photos from Spider-Man: Far From Home, a direct sequel to Spider-Man: Homecoming hitting theaters on July 5, 2019, reveal Tom Holland's Peter Parker wearing a nifty black armored costume that looks like several iterations of his other comic book suits all mashed together.
On Monday, blurry photos from the Czech Republic set of Spider-Man: Far From Home — the same set pictures that revealed Jake Gyllenhaal as Mysterio without his iconic fishbowl helmet — revealed Spider-Man in a black, tactical stealth suit.
The suit looks heavily influenced by Spider-Man Noir, a different Spidey from an alternate universe who fought crime in the Prohibition-era 1930s. That Spider-Man was created by David Hine, Fabrice Sapolsky, and Carmine Di Giandomenico, and released as a miniseries in 2009.
There's also green elements similar to his actual stealth suit from The Amazing Spider-Man #650, and padding like the MK. III costume he wore in issue #682.
Virtually anyone who's played Marvel's Spider-Man on the PlayStation 4 will recognize those costumes. All of them were unlockable and usable for the whole game.
While fans have gotten quite the interesting reveals from blurry pictures taken by pedestrians in the Czech Republic, there's actually little known by the general public about the film itself.
All that's known is that the film likely takes place after Avengers 4, where Thanos' big universe-changing destruction is reversed. Hopefully.
Spider-Man: Far From Home hits theaters on July 5, 2019.