Oscar Isaac Explains Why 'Star Wars Episode 9' Is Better Than '7' and '8'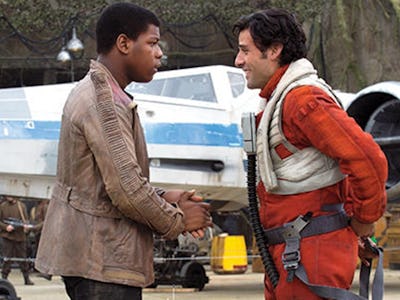 Lucasfilm
No matter how you feel about The Last Jedi, there's no denying that Star Wars episodes VII and VIII feel like very different types of movies. Now, according to one of the new trilogy's stars, it sounds like Episode IX could have its own distinct feel too, despite the return of Force Awakens director J.J. Abrams.
Speaking to Indiewire, Oscar Isaac (Poe Dameron in the Star Wars universe) revealed that production on Episode IX has felt looser and more improvisational than it did on previous movies in the series. That may worry diehard Star Wars fans, but for Isaac, it's a good thing.
"It does feel like a relief to get on set and feel like, 'Oh, we can try things,'" he said. "It's a testament to J.J. coming back and feeling confident. There's less pressure for it to be right. We just want to make a good movie and have a really good time while doing it."
In a way, this laid-back approach to the final film in the current Star Wars trilogy makes sense. With Force Awakens, there was a ton of pressure on Disney to get things right after reviving the series after so many years (plus the fact that the company paid $4 billion for the franchise). Then, with Last Jedi, director Rian Johnson had to follow-up the success of the previous film while also attempting to match the quality of another iconic second Star Wars film, The Empire Strikes Back.
But with J.J. Abrams returning to the director's chair and the future of the Star Wars franchise already at least somewhat mapped out beyond this trilogy, Episode IX represents a chance for the cast and crew to ease up a bit and focus on creating something fun with these characters before their adventure officially wraps up.
Oh, and if you're hoping for some Star Wars Episode VIII spoilers you're out of luck. Isaac doesn't reveal any details, though he does offer a clue on where you might find them. It turns out Isaac has been sharing Star Wars secrets with two specific people: his Star Wars-obsessed cousin and uncle.
"They've had some great ideas," he said. "I smuggle some secrets out to them."
Star Wars Episode IX is set to debut on December 20, 2019.