'Star Wars Episode IX' May Turn to an Original Evil to Lead the Dark Side
Also, another Death Star...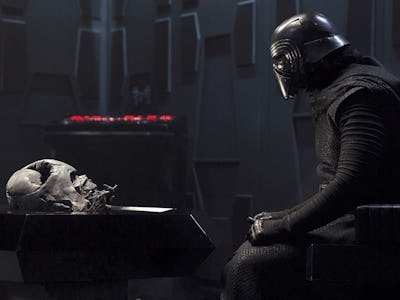 Lucasfilm
Snoke is dead. Kylo Ren is a total soy boy. So who can lead the Dark Side in Star Wars Episode IX? The answer may come as a bit of a surprise if the latest leaks out of Lucasfilm are to be believed. According to a new rumor, the next Star Wars film could reunite Kylo Ren with none other than the original big bad: Emperor Palpatine.
This leak comes from Star Wars-obsessed YouTuber Mike Zeroh, who isn't exactly the most reliable source. However, this isn't the first time we've heard rumors that Palpatine could reemerge in some way in Episode IX, even if he clearly dies at the end of the original trilogy. So treat these "spoilers" with plenty of suspicion.
That said, the scene described by Mike Zero, in which Kylo Ren and the Emperor come face to face, sounds freaking awesome. So let's hope this rumor turns out to be accurate:
"Emperor Palpatine will play a role in Episode 9. Specifically, Kylo Ren with an ignited lightsaber, presumably his cross-guard lightsaber, cutting through a blast door on some jungle planet and entering what appears to be a vault…
Article continues after this related video: The Real Emperor Returns to 'Star Wars Rebels'
"Eventually Kylo Ren is holding a square object that projects a lifelike projection of Emperor Palpatine. Palpatine's hand is raised in front of Kylo Ren showing blueprints or plans that could be a new weapon."
So it sounds like Star Wars Episode IX could find a way to feature the Emperor without actually bringing him back to life. In this scenario, Kylo Ren simply finds an old recording of the Sith Lord, which provides him with the information he needs to presumably squash Rey and the rest of the Resistance.
Of course, if Emperor Palpatine is calling the shots (even from beyond the grave) that can probably only mean one thing: Another freaking Death Star. We'd like to hope that director J.J. Abrams can figure out something more interesting to do in Star Wars Episode IX, but considering that the plot of Force Awakens basically hinged on a supersized Death Star, we're not too optimistic.
Still, if it means that Kylo Ren and Emperor Palpatine can finally come face to face (even via holograph), it will probably be worth it.
Star Wars Episode IX is set to hit theaters on December 20, 2019.