Blessed Apple Patent Hints at an Urgently-Needed iPhone Update
This can't come any sooner.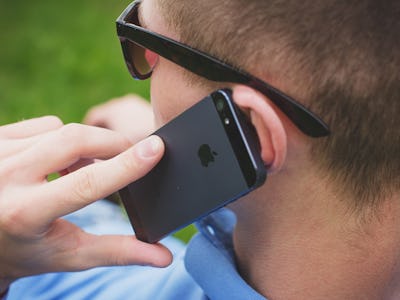 Unsplash / freestocks.org
Relief from the ceaseless spam calls tormenting iPhone users across America may finally be in site: Apple is developing software that can detect the robot calls hiding behind fake numbers and warn users not to pick up.
The update would attempt to verify the legitimacy of incoming calls by checking various technical aspects of the number. We know this thanks to a recently filed patent claim titled "Detection of spoofed call information" which was submitted by Apple and published Thursday by the U.S. Patent and Trade Mark Office. The filing didn't explain how the notification would appear on users' screen, but it's easy to imagine some sort of red exclamation point or signifier that would pop up alongside a suspicious number.
This feature couldn't come any sooner. Roughly, 3.3 billion spam calls were made in April alone, and call scammers have already made away with an eye-water $8.9 billion as of March. When the patent news broke, Redditors were overjoyed.
"I hope we see this come to fruition sooner rather than later," commented one user, who amassed 363 upvotes. "This problem is out of control. 99% of my received phone calls are illegitimate."
Policy makers and device makers alike recognize the problem. Most recently, tech companies and cellular services teamed up with the FCC to form the "Robocall Strike Force," made up of Apple, Google, AT&T, Verizon, and many more firms. The Cupertino-based company has also provided developers with the capability to develop software tools to block and identify spam calls back with iOS 10. However, this patent filing is the first time Apple has signaled it's working on a proprietary spam call detector.
This news comes only a day after Google announced it would leverage its Duplex technology to intercept spam calls. The Pixel 3's Screen Call feature lets users have the Google Assistant pick up any suspicious phone calls for them. The A.I. then transcribes the conversation so people can report the call if it's fraudulent or pick up if it's important.
Expect to see more products like this from tech companies and even academics in an attempt to halt the spam call epidemic that is sweeping the nation.