Chris Evans May Have Just Revealed a Huge 'Avengers 4' Spoiler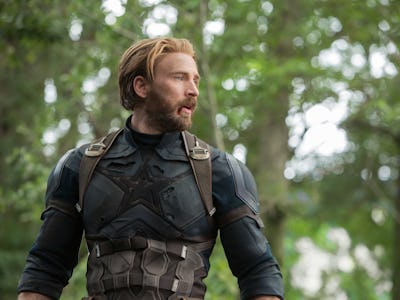 Marvel Entertainment
Did Captain American just spoil the ending of Avengers 4 for everyone? Actor Chris Evans may have given away a huge detail in a tweet announcing the end of reshoots for the upcoming film, but what did his message imply? Here's what you need to know.
Avengers 4 is expected to resurrect some of Marvel's biggest stars, including Spider-Man and the Black Panther, but the upcoming movie may also serve as a goodbye for some of the MCU's original heroes. That's because actors like Chris Evans (Captain America) and Robert Downey Jr. (Iron Man) only signed contracts that get them through the upcoming film, though it's still unclear exactly what will happen next to those characters.
It's possible they could sign on for more, assuming Disney is willing to pay top dollar for a group of actors who've become some of the biggest stars in the world thanks in part to the MCU. But this new tweet from Chris Evans certainly makes it seem that after Avengers 4 we won't be seeing any more from this particular version of Captain America.
"Officially wrapped on Avengers 4," Evans writes. "It was an emotional day to say the least. Playing this role over the last 8 years has been an honor. To everyone in front of the camera, behind the camera, and in the audience, thank you for the memories! Eternally grateful." (Emphasis added.)
That certainly sounds like a retirement speech, especially the stuff about how playing Captain American "has been an honor." Evans is writing in the past tense about a character he's come to represent in the eyes of millions of fans. It's no surprise that the end of that role would be emotional, but it is surprising that he'd hint so heavily at the end his character.
Of course, it's possible that Captain America won't die in Avengers. He might just retire, passing his shield on to a new hero. But there's something about Evans' words that make us worried the character won't go out so quietly.
Considering how dramatically Avengers: Infinity War ended, Marvel will likely be looking for a way to raise the stakes even more with Avengers 4. Killing off "the first Avenger" would definitely do the trick. Let's just hope he takes Thanos with him.
Avengers 4 hits theaters on May 3, 2019.